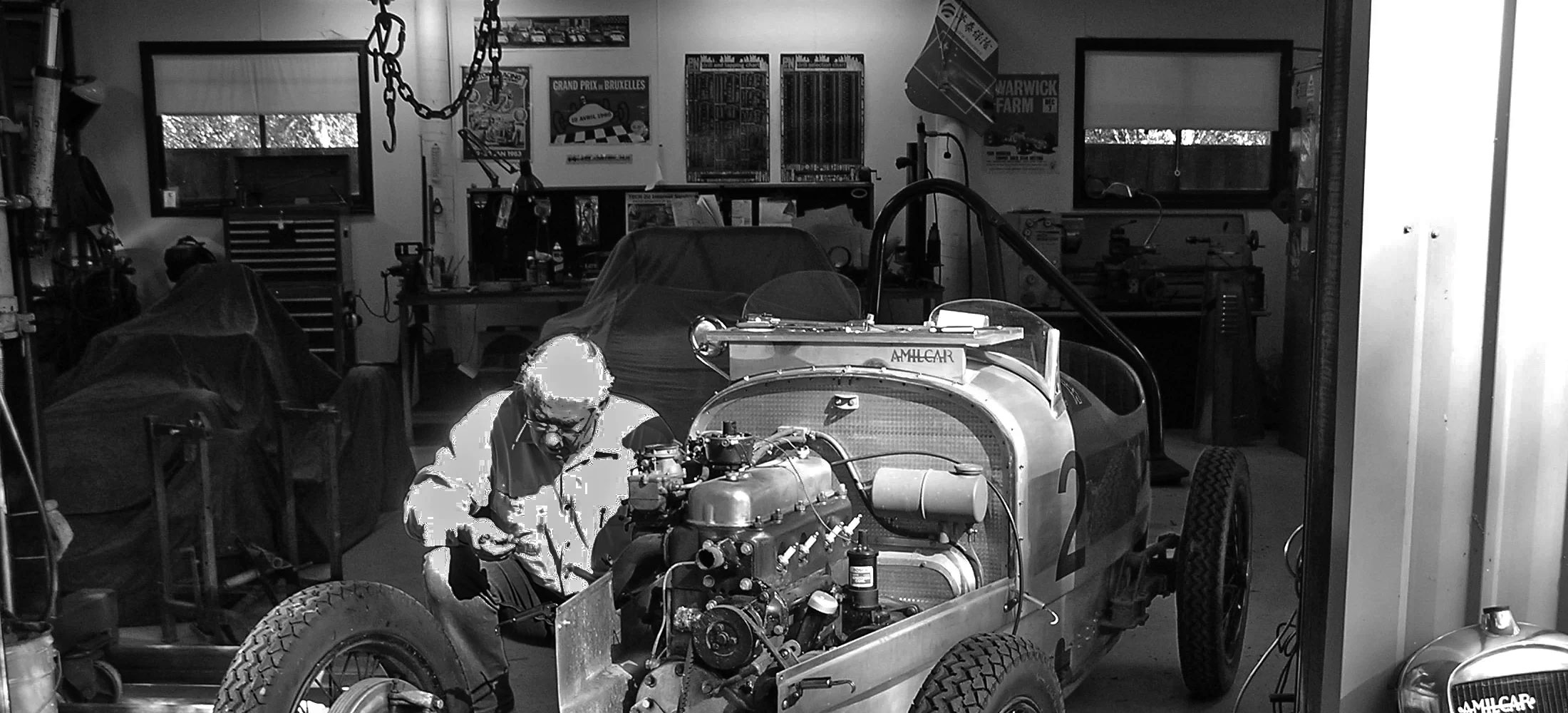 Proud of our past, passionate about our future.
Welcome to the AMHF
Located at Sydney Motorsport Park, Eastern Creek, Australia's heart of motoring passion, the AMHF is the nation's hub for knowledge, research and education for all things automotive. Strategic partners of the Australian Racing Drivers Club (ARDC), the AMHF is the place where all motoring clubs can pool and access their knowledge, gather, and research.
The AHMF's collection started with AMHF chairman Hugh King's personal collection and has already attracted other unique material including the late historian Graham Howard's unique motor racing archive collection.
Curated and run by volunteers, the AMHF is a registered charity, with Deductible Gift Recipient status for the Library, that welcomes financial donations and gifts. Patrons and supporters are joining now – to enable the charity to bring its collection online and make it available to inquiry from around the world – join now.
If you would like to provide the foundation with a gift, please let us know.
The AMHF's Mission
The Australian Motor Heritage Foundation is dedicated to the preservation of Australia's collective knowledge on private transportation on our roads and in our skies. We are particularly concerned with the historical knowledge that exists in the thousands of motor clubs across Australia but we are equally concerned to preserve our history of motor racing, of motor cycling, of aviation in all its forms and of road haulage by truck or bus.
We have created a library for this express purpose. It is a research library and we are aiming to make our information available in digital form as widely as possible. Our book and magazine collection has tens of thousands of volumes. We also have a substantial and growing collection of audio-visual items that includes photos, brochures, prints and videos.
We would like to assist anyone who has a genuine interest in Australia's motor heritage. We are open to requests from primary, secondary and tertiary educational institutions and we are currently seeking government support for our program for primary and secondary school projects.
We welcome approaches from people who have an academic interest in our collection. We would also like to become the nucleus of information for the automotive and advertising industries, journalists, preservationists and inventive entrepreneurs.
We do not want to be 'just a library' (although that is a significant part of who we are). Rather, we seek to foster social cohesion through public seminars, lectures and informal gatherings which share our passion for motoring with the widest possible audience. Indeed, we hope to play a role with overseas foundations and heritage centres having similar objectives, such as the British Motor Heritage Museum, Daimler-Benz Classic Centre, the Brooklands Museum Trust, the Louwmann National Automotive Museum at The Hague, the National Centre for Automotive Documentation at Helmond, Belgium, the Blackhawk Museums, the Revs Institute, Florida and the Nethercutt Collections in California.
Motor vehicles have always played a key role in the physical, economic, and social development of Australia. We are dedicated to protecting this heritage through operating a library and including by:
Recording and cataloguing the heritage and history of the use of motor vehicles for transportation and mobility.
Collecting, preserving, and exhibiting items of significance to this motoring heritage, for the benefit of the community, and making those items available through use including through lending, display and making available for reading (including over the internet).
Fostering public awareness and interest, through developing seminars, programs, and publications to educate Australians in this heritage.
Creating an educational resource for universities, TAFE colleges, schools, academics and historians; the Australian nucleus for the automotive and advertising industries, journalists, preservationists and inventive entrepreneurs; to be the focal point for Australia's thousands of car clubs and a centre for community engagement.
We also intend to connect with and participate digitally with the many overseas foundations and heritage centres having similar objectives.

Partner Organisations and Foundations
The AMHF is part of an extended group of organisations all over the world who share common goals and values.

Join Us Today!
Interested in joining or supporting the Australian Motor Heritage Foundation?