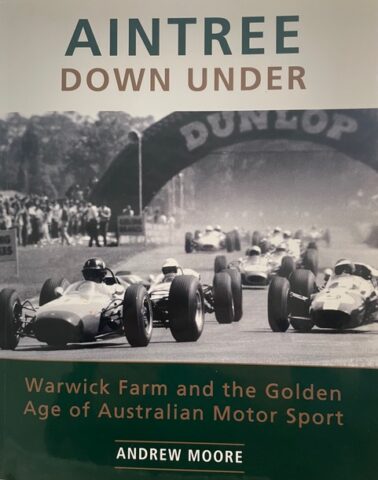 On Saturday August 13th 2022 our very own Ambassador and Volunteer Adjunct Professor Dr Andrew Moore delivered the "54th Ward and Olive Havard Memorial Lecture" on behalf of the Liverpool and District Historical Society to a very large audience at the Chatham Bar, situated under what used to be the Member's Stand (certainly in the motor racing era) at Warwick Farm.
Andrew spoke about his book, "Aintree Down Under" (published by Walla Walla press, 2017), a comprehensive history of what many still believe was the finest circuit in Australia during its period of operation (1960-1973). The circuit was run by the Australian Automobile Racing Club in conjunction with the Australian Jockey Club.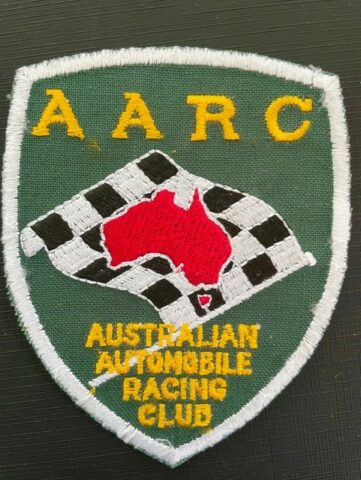 The affection still held by many for the AARC, its Secretary Geoff Sykes and his small team, Mary Packard and John Stranger, was clearly evident by the appearance of several AARC ties being worn, badges on cars in the car park and specially made 'AARC name cards' which were distributed to all and sundry by a very chipper 88yo Herb Taylor, a local resident, a member of the society and a regular competitor at the Farm in the day. This fondness is astonishing really, given the club ceased to exist in 1986.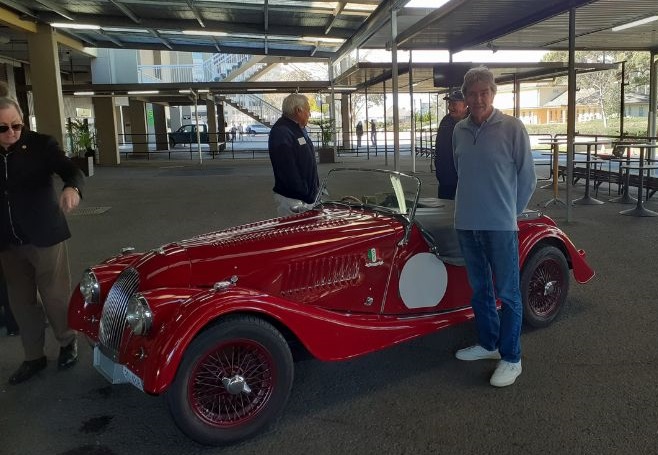 The Morgan that won the very first race at the Farm in December 1960 driven by the late David McKay (in pouring rain) was on display, and several members of the Geoghegan family, also Liverpool locals were in attendance.
Andrew spoke of the reasons motor racing was introduced at what was, in the 1950s, a dying horse racing venue, and then explained some of the reasons why the AJC lost interest in having cars at their venue. As explained in the book, the introduction of the TAB by the NSW State Government in 1964 made this inevitable.
Andrew's book is certainly about Motor Sport in the just over 12 years of the circuit's existence, but delves into the social history of the era in the Liverpool district and this feature alone is one of the glories of the book.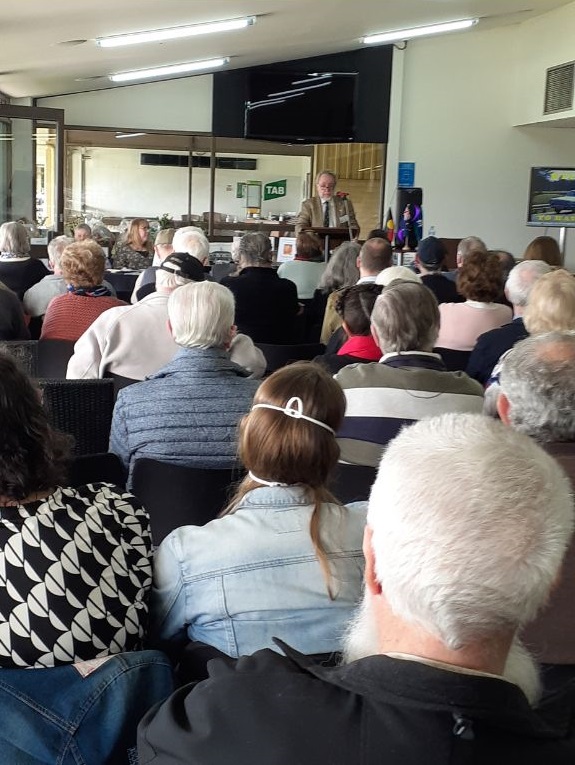 Andrew's talk was very well received and afterwards many partook of the light lunch, sitting in the glorious winter sunshine on the verdant grass in front to the grandstand overlooking what used to be the start/finish line. Plenty of ghosts there… Jim Clark, Jackie Stewart, Jack Brabham, Graham Hill, Phil Hill, John Surtees, Dennis Hulme, Jochen Rindt: all of them World F1 Champions who raced at the Farm between 1961 and 1971. To say it was a golden age (I haven't even mentioned Stirling Moss who won the first International 100 race in sweltering heat in January 1961 or the many great local drivers) understates the point.
Aintree Down Under is an excellent book and highly recommended to anyone with an interest in Motor Sport and Social History in Australia.
Colin J Piper