by Brian Goulding
Motor racing circuits have used a variety of surfaces over the decades. Bitumen, concrete, gravel, dirt and clay have all been employed, and races have been conducted around the world on the sands of beaches and deserts. One surface that enjoyed a brief but spectacular burst of popularity was wooden boards. That's right, wooden boards forming the racing surface of a banked oval built on a framework of wood, steel and concrete.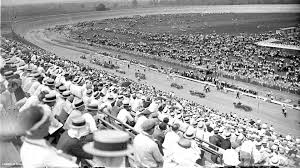 In the early days of racing, events moved from the open road to closed roads and then to cordoned off tracks. This meant spectators could be controlled and people who were supposed to pay could be checked. In the USA there was the brick paved Indianapolis Motor Speedway and countless dirt bullrings, but nothing in between.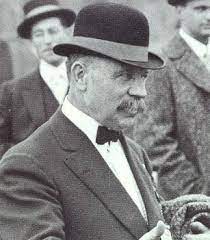 Around 1908 a professional bicycle racer from Britain, Jack Prince, upsized his successful business of building wooden board tracks for bicycles and motorcycles. The following year Prince built the Los Angeles Coliseum Motordrome, a velodrome-like motorcycle racing facility that was just over a quarter mile (0.40 km) in circumference.
His company followed this up by constructing the first board oval for car racing, also in Los Angeles. The Motordrome was the brainchild of mechanical engineer Frederick Moskovics, then an employee of Remy Electric, and who later became a member of the emerging Society of Automotive Engineers and, eventually, president of the Stutz Motor Company.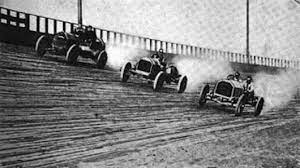 The Motordrome, a circular 1-mile (1.6km) wood board racetrack, opened in 1910 and quickly became popular. Construction began on January 31, 1910 and cost $(US)75,000, while an additional $(US)10,000 was invested in lighting for night racing. Pine, treated with a coating made from crushed seashells to improve traction, was used for the track surface.
A guard rail was erected around the outer rim and another around the inner edge of the track, at a height calculated to coincide with the wheel hubs of racing cars. A second rail was erected above the first to prevent cars rolling. Seating was provided for 40,000 spectators inside the bowl.
Laps of just over 36 seconds were produced in a preliminary contest between Barney Oldfield and Ralph DePalma, America's most famous racing drivers of the era, during a head-to-head opening day attraction. In 1911, the Motordrome hosted its first 24-hour endurance race, which was won by a Fiat, completing 1491 miles (2,400 km) at an average speed of 62.1mph mph (100 km/h).
Unfortunately, the LA Motordrome only lasted three years before being destroyed by a fire. It was never rebuilt. Prince's largest board track Maywood, Chicago, opened on June 26, 1915 with a crowd estimated at 80,000 – 20,000 more than watched the Indianapolis 500 a month earlier.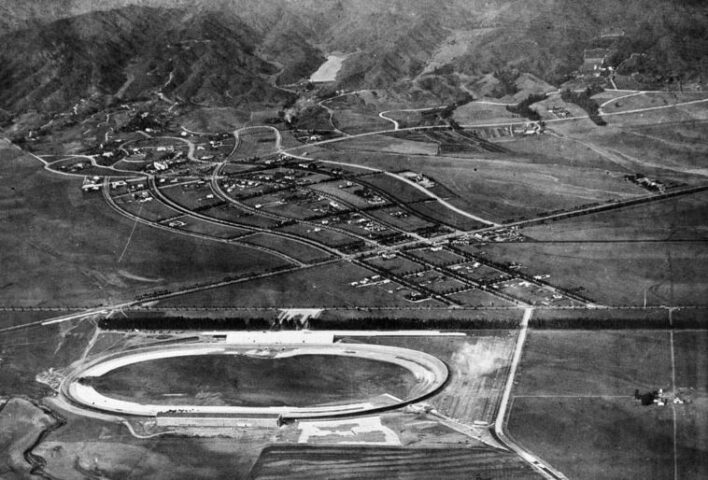 Before WWI, any American town or community could contemplate building a venue for high speed, dust free competition as long as they had access to rail or road transport. Rail was preferable for transporting timber, spectators, and race cars quickly and cheaply. By 1929, at least 24 board tracks had been constructed around the USA.
In the early period of board racing (1915 – 1920) the two-mile track was the standard and victories went to a variety of marques including Peugeot, Mercedes, Stutz, Packard, Hudson, Frontenac, Delage, Mercer, Maxwell and Duesenberg.
The board tracks had an average lifespan of only three years. The pounding taken by the exposed wood, especially on the banked sections, caused splintering and holes. The businessmen owners were not impressed when large expenses for maintenance started flowing in.
The cars that raced on the board tracks became more and more specialised with high importance placed on sustained top speed. The highly developed supercharged engines could propel a car to 275 km/h from only 1.5-litres. And this was in the 20s.
It took courage and skill to succeed on the board tracks. Racing was fast and close, with little margin for error. Slipstreaming was essential, especially for slower cars, and this dramatically increased the risk. Deaths were common. 24 drivers and riding mechanics lost their lives on board tracks. There were no helmets, seat belts or roll bars.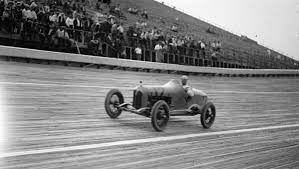 The Amatol track in Atlantic City was considered the fastest board track. Frank Lockhart set the one lap record at 147.229mph (237 km/h) in May 1927. This speed was not achieved at the Indianapolis Motor Speedway until 1960. Ironically there does not appear to be one single historic monument to acknowledge this golden era of American racing. In its motor racing history, Australia had a couple of long ovals, the most notable of which was the Empire Speedway at Maroubra, but I don't believe a board track was ever built in Australia.