by Andrew Moore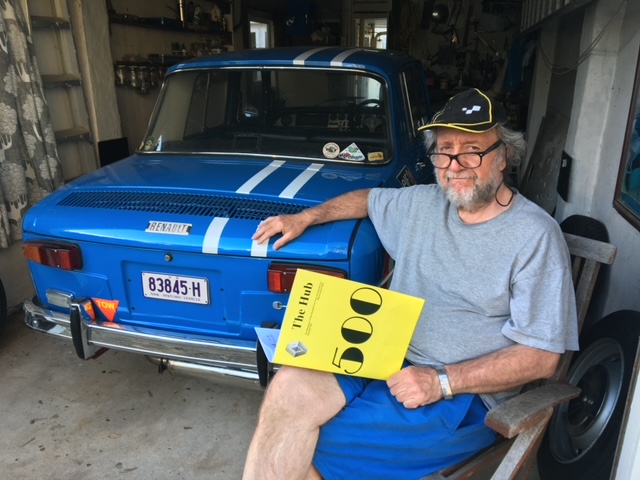 I feel a bit of a fraud writing about Renaults and me. There are so many others in the Renault Car Club Australia (RCCA) who can claim more distinguished credentials in the area of Renault ownership than I can, let alone knowledge and mechanical expertise.
In my 50-years of motor vehicle ownership I have only owned three Renaults. Apologies, therefore, in advance that the following discusses a couple of cars that are not Renaults.
Nonetheless, my first car in 1971 was a second-hand 1967 round-eye R10. It was maroon, and therefore inclined to fade. I fitted it with one of the then fashionable chrome nudge bars and a set of driving lights. In my eyes it was fantastic. I hung out at E and A Motors in Crows Nest, joined the RCCA in the early 1970s and went in a few minor events in the 10. Because I was a university student and had no money, I was successful only in competitions like economy runs. Of course, at the time it was hard not to be impressed by the exploits of the likes of Bruce Collier and Bob Watson who were distinctly less sparing in their use of the accelerator than I. As well, there was the legendary R8 Gordini to aspire to own.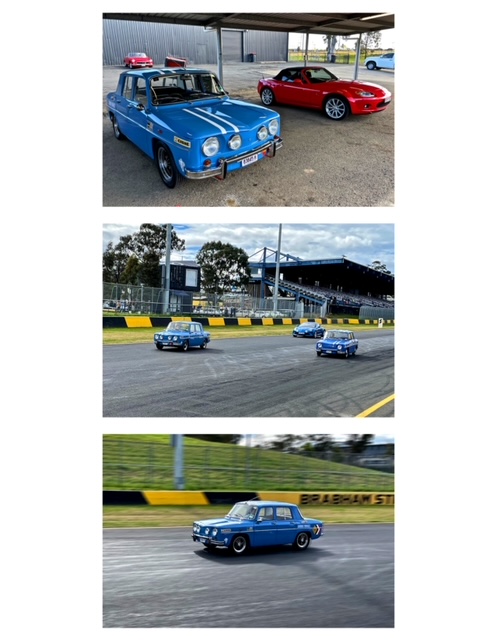 On reflection I think my love of R8 Gordinis had already started. For me one of the highlights of heading out of the city in 1969-1970, before I had a drivers' license, sitting in the back seat of the family Valiant, was passing by the premises of Colliers Automotive Services in Woodville Road, Merrylands (NSW). There was always the current fleet of Gordini rally cars poking out from the workshops to ogle. My major concern was that as we passed Colliers on the left-hand side heading southwest, a truck or bus on the other side of the road would block my view. For some reason my old man, who was generally an indulgent father and in fact kick started my love of motor sport because he shared it, never worked out that it might be a good idea to stop and ask Bruce Collier if we could please have a quick look at the Gordinis.
After I sold the R10 because it had a few issues lurking head gasket-wise, I owned a 1966 404 Peugeot. It had had a hard life but still had enough vigour to do a few Australian Automobile Racing Company (AARC) club members' track days at Warwick Farm and rallies. The Warwick Farm track days were amazing. I vividly remember the sight and sound of being overtaken on the approach to Leger Corner by what was probably Niel Allen sorting something out in the Traco Olds sports car. The speed differential was possibly 100km/h or more. The Pug also ended up with head gasket problems that caused retirement from the 1973 Kaiser Stuhl Cold Duck rally. (Cold Duck is also my nomination for Australia's worst ever alcoholic drink. Chateau Rot Gut if ever there was one.)
I worked nights and university holidays at a garage in Crows Nest owned by two redoubtable brothers, Don and Les Johnston. Both wonderful characters with shocks of red hair, they were family friends and soon became mine. They had been apprenticed to Alex Strachan at a Humber dealer who was one of the founding fathers of Warwick Farm and still specialized in Humbers and Hillmans. Inevitably this inclined me towards investing in a performance Hillman. This was not an oxymoron. It was a Hustler.
Don and Les Johnston also have a place in my misremembered history of Australian motor racing. I was very young, probably still in primary school, when my mother first introduced me to Les. My mother was at pains to point out that the brothers had been, she said, mechanics to none other than Stirling Moss. Standing on the apron of their garage Les Johnston made no effort to correct or qualify this extraordinary claim to fame.
It would be an understatement to say I was mightily impressed. It all made sense. Aged 12 I stood by the safety fence at Mt Panorama when Don drove a Humber Vogue Sports in the 1965 Armstrong 500. It was true he did not win or was a front runner. Indeed, he established something of a record for spinning at various corners, especially Forest Elbow. Nonetheless, in my eyes, he was a legend. And how remarkable that the same fingers that tinkered with our Hillman Minx also fettled Moss's racing cars. In my mind's eye I thought of the two country boys from Tamworth (they pronounced their home town as 'Tam-erth') lying under a Lotus at an exotic motor racing track in Europe, perhaps Monaco, maybe Brands Hatch or Aintree.
Many years later, indeed after my book on Warwick Farm, Aintree Down Under, was published in 2017, a somewhat more jejune version of the story emerged. Moss's entry in the first International 100 in January 1961 at Warwick Farm was very much a last-minute affair. David McKay, that perennial mover and shaker of Australian motor racing, had drawn Moss's attention to the forthcoming race in Sydney when they were competing at Ardmore in New Zealand just three weeks before the race. Moss rang Geoff Sykes, the Warwick Farm promoter and secretary of the AARC immediately. Terms were quickly agreed upon and a convenient cruise ship that would bring Moss and his car, a Lotus 18 Coventry Climax, to Sydney arranged.
It is a matter of historical record that the British maestro won the race on that appallingly hot day, ushering in The Farm's glory days which lasted until 1973. However, it seems that Moss's blue and white Rob Walker car was delayed in arriving. The car was held up on Sydney's wharves. (This was not surprising. At the time 'Big Jim' Healy and members of the Waterside Workers Federation were inclined to exercise their right to withdraw their labour frequently, especially when the luxury goods of 'silvertails' were involved.)
With the delay Geoff Sykes was concerned that the international superstar should acquire as much track time as possible on the new circuit. It seems that Sykes approached his newfound friend, Paul Samuels. He was another of the motor racing luminaries of the time, and of course later revered for his role with the Historic Sports and Racing Car Association (HSRCA) and in establishing Wakefield Park. Paul Samuels also owned a Lotus 16, one of three imported by Australian Lotus agent Derek Jolly. Samuels agreed to loan his car to Moss. Thus, in a limited amount of time in early practice, Moss drove Samuels' green and yellow Lotus 18, more or less just to acquire some familiarity with the track. The Lotus expert, Mark Schagen, however, records that Moss set the fastest lap time in the borrowed car and thus started from poll position, in his own car. One of the car's subsequent owners, the eminent automotive historian, John Medley, confirmed the story in an Internet blog in 2013. (https://forums.autosport.com/topic/186155-early-lotus- sales-outlets-in-australia/)
In any case the story I believed for more than 60 years that my friends Don and Les Johnston were Stirling Moss's mechanics was more than just a tad exaggerated. For a few hours, maybe. In this instance they were working for Alex Strachan's mate, Paul Samuels, aka 'Sartorial Sam', not Stirling Moss. To give them their due it was probably them that assembled the car. Alex Strachan was then Lotus's agent in Sydney and the car was assembled in his dealership's workshop for its first owner, John Jamieson, in early 1961. (It must have been very early 1961 because the International 100 took place on 29 January.) Amused, I remember confronting Les, by that time a very old man, with the reality of the story, shortly after my book was published. He beamed with pleasure.
Back to the Hustler. I may be one of the few car enthusiasts in Australia to remember what a Hillman Hustler was. Essentially it was a poverty version of the Hunter GT, same mechanicals but much less luxurious inside and made to look like a Valiant Pacer on the exterior. Mine was Hemi Orange with Matt Black bonnet and hoon striping.
Upon graduating from university, I decided to take my motor sport aspirations to a higher level. In 1976 I prepared for a full season of clubman level rallying in the Hustler. Don and Les tickled the 1725cc engine. Some welding took place to strengthen the body. A half roll cage, full alloy sump guard, rear bumper with jump steps, grab handles on the boot lid, roo bar and Super Oscars were installed. Even if I never got round to moving the very vulnerable fuel tank into the boot, on meaty Dunlop SP44s fitted to Globe Bathurst alloy wheels, the Hustler looked super smick and purposeful.
Unfortunately, my season of semi-serious rallying confirmed to me that I was never going to be a works rally driver. My skills were crap. There was, however, a major epiphany, R8 Gordini-wise.
Midway through 1976 (?) there was a round of the Clubman rally series run out of Hampden heading towards Oberon. It had been raining heavily and many of the forestry roads were quagmires. As usual we had got lost so were well behind most of the field. At one point in the early hours we arrived at a paddock where many of the earlier cars had become bogged. 30 or more cars were sitting there, some bogged up to their door handles. It was not rocket science to work out that it would be a good idea to cut and run, rejoining the route further on.
At this point the Hustler decided to remember that it had a distinguished rallying pedigree. (Andrew Cowan, sadly the late Andrew Cowan, and his slow but extremely strong Hunter GT won the 1968 London to Sydney marathon.) My car's usually asthmatic engine revved effortlessly. For the first time I was able to do Scando flicks approaching corners, finding that the car had enough power to hold the car sidewise through the apex and stay on the road. I was amazed.
Because of not venturing into the boggy paddock, we were arriving at controls in the company of some of the gun drivers of the time (whose tyres, of course, had caused the track across the paddock in question to become impassable). I think the rally was ultimately won by Arthur Jackson, then the State champion in a Datsun 1600. The control officials along the way were surprised to find two no-names in a near stock standard Hillman Hustler running at the front end of the field. I quickly developed a very credible line in self-abnegation and modesty. In fact I did win the novice or encouragement award, more or less my only success in motor sport.
When we arrived in controls that night the car that was often sitting waiting to depart was a yellow R8 Gordini. I now believe that this was the car that belonged to Ed Irwin. I also understand that this Gordini is unusual in the sense that it is the only one of the 60 R1135 Gordinis in Australia to be still in the hands of the original owner. It helps that the car holds the record for detention in Colliers: 19 years when an earlier botched rollover repair by a panel beater complicated things.
I have recently been able to touch base with Ed. An interesting email he sent clarifies some of my now fading memories. Ed writes,
I competed in quite a few rallies in the 1970s, mostly in the Snowy Mountains state forests I think, but cannot remember the one to Oberon specifically. I drove in the special stage in a rally (my last) starting at Little Hartley before I was forced to retire with a broken alternator. In my ignorance a common occurrence for me. I only worked out that it was an over revving issue (remedied by changing the ratio of the fan belt pulleys) on that day when I fitted the alternator from my brother's new R12. Bruce Collier drove his rotary Mazda in that event. That might be the rally you remember. I have been the sole owner of the car since paying a $200 deposit on 12 January 1970 and a further $3150 on 19 May 1970. The car seems to have been specially assembled (rather poorly – the paint started to flake off almost immediately) in West Heidelberg, Vic. after I sent a demanding telegram to the manager as a last resort. In retrospect the car might have been sold to me in error. The dealership at 191 to 199 William Street insisted on purchasing an RCCA membership for me so that I could be instructed in how to drive it. I don't remember receiving any instruction and having been driving a series of Riley RMBs to the limit of their capacity since obtaining my licence in 1961 I would probably have declined tuition in any event. The original plates BDK 988 were returned to the Roads and Traffic Authority (RTA) in 1975 when the car was in an unroadworthy condition. The car remained at Colliers while problems with poorly executed body repairs (some carried out in the early 70s and the rest when I was preparing it for the road again) were being sorted.
I competed in most of the speed events held by the Club in the few short years the car was in reasonable mechanical condition: – the Amaroo Park hill climb, sprints at the Amaroo dirt circuit, the motocross track, the Oran Park short circuit, Catalina Park and in quite a few of the club's rallies. My only class win was in my first rally that started from perhaps Tumut which was an RCCA event included in the Southern Cross Championship series. Most of my rallies were abject failures.
I cannot agree that most of Ed's rallies were 'abject failures'. He may not have won the Australian Rally Championship, but he was often a front-runner and in my eyes a bit of a gun. His email reminds me of another venue at which Ed and the yellow Gordini excelled. This was the dirt short circuit at Amaroo. The sight and sound of the frequently sideways Gordini was marvelous. Ed's excellent car control was on display for all to see.
For my part that night in a forest near Oberon, the howl of the Gordini as it sat down on its haunches, driving wheels spitting gravel and hurried off into the night stayed with me. I knew then that the car I really wanted to own was an R8 Gordini.
A full 40-years went by before I achieved my goal. Of course, R8 Gordinis are rare in Australia and made even more so by the number that were raced or rallied. In 2013 I bought a new RS Megane 265, hoping that it would soothe the itch for a Gordini. While the Megane is a superb car, great to drive, much, much faster than a R8 Gordini with, of course, fantastic brakes and steering, a real charisma car, I found myself still scanning the Internet car sites. And I rejoined the RCCA 40-years on.
My R8 R1135 Gordini first entered my sights in September 2013 when it appeared at a Shannons Auction in Melbourne. It had been owned by Peter Nesbitt for 39-years. I was a losing bidder. It sold for $27,500 and went to Perth. It was not in great condition. At this point it had megabucks spent on its restoration and several additional engine rebuilds over sawn by WA's Renault guru Ray Watson.
In 2017-18 the car was put up for sale in Unique Cars and Ebay for an optimistic $90,000, a ridiculous amount of money. To cut a long story short I ended up inspecting the car in Perth, negotiating a price, buying it and shipping it back to Sydney.
Ownership of a R8 Gordini has not been trouble free. Much to my chagrin I am not mechanically adept or knowledgeable. More than likely I placed too much faith in the pile of paperwork and bills to attest to the car's future reliability. One of the few new parts Ray Watson had not been able to source for the engine rebuild(s) was a cylinder head. When my old nemesis – the head gasket – did blow, the thinness of the old cylinder head became apparent. Had it not been for the persistence and skill of David Collier more than likely the car would still be sitting in the garage stationary. For now the old cylinder head seems to be holding, and just in case I secured a new one from France through the Matra D'Jet car club. Thanks to Peter Davson-Galle in Tasmania who put me onto this arrangement. Thanks, too, to Bob Billiards of the RCCA for offering me generous practical assistance. People with cars like mine have rocks in their head if they do not join a related marque car club.
There is one slightly spooky aspect to this story. One Saturday morning as I was talking to David Collier in the course of picking up my car after one of its lengthy stays in Granville, a yellow R8 Gordini pulled up in the forecourt. A man of a certain age alighted but left promptly when he saw that David was busy. It was like seeing a ghost from my past. It was Ed Irwin. It took a few more years before I was able to track him down.
In 2020 Andrew Collier asked me if I was interested in writing something on his father. I had already been thinking along these lines, so I was pleased to do so. I have written biographical entries on other rallying luminaries such as Ken Tubman, Jack Murray and Evan Green for the Australian Dictionary of Biography. Historical research and writing rather than tinkering with side draught Webers are within my area of competence.
Sitting talking to Bruce, in the old family house, was a real privilege, as was writing The Bruce Collier Story published by the RCCA last year. As I left Bruce's house I felt I had completed a circle in my life. A teenager of 1969 to a senior citizen in 2020. Despite my father I had finally spoken to Bruce Collier.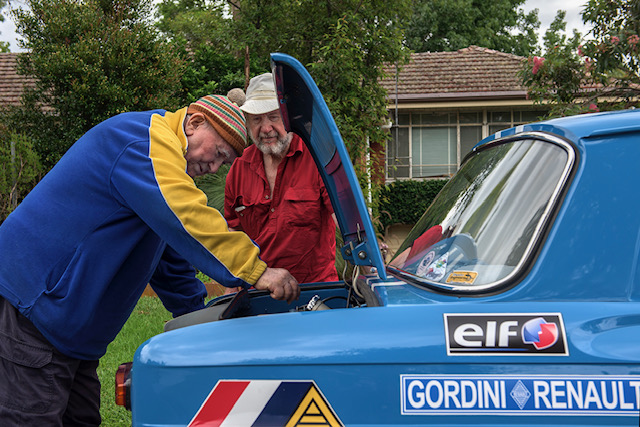 (A version of this story first appeared in The Hub, the Renault Car Club of Australia newsletter in 2020.)