This is an iceberg of a book. That is to say there is much more below the surface than above. Thirty years of research has produced an authoritative reference work on round Australia motor trials and rallying, cars, motor bikes, even planes, from the 1936 Centenary Rally to the  PlayStation Round Australia Rally in 1998. The well-remembered characters of Australian rallying and trial driving, Jack 'Gelignite' Murray and 'Wild Bill' McLachlan, rub shoulders with the often forgotten, the likes of  'Bomber' Moxham from Nyngan. 'Bomber' s grazier father was absent overseas at the time his son 'borrowed' the family's 1946 Ford V8 to compete in the 1953 REDeX trial, taking a couple of mates along to share the adventure. (There is an interesting thesis to be written on nicknames in Australia in the 1950s- why did so many alpha males in Australia have one?).
Long Distance Trials in Australia by Car Plane & Motor Cycle is a story about the practitioner turned scribe. In his youth Hal Moloney was a gun rally driver. He first had a crack at a round Australia event in the 1964 Ampol trial driving an Anglia 105E that 'broke in half'.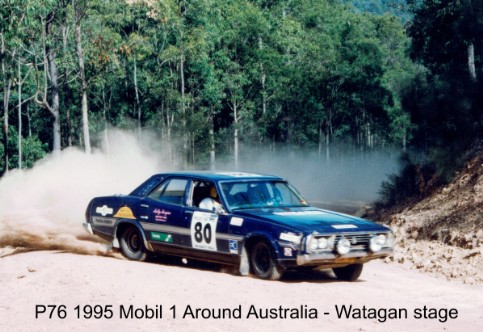 Then there were Falcons and a Colt 1100 SS. Later he purchased a demo  Leyland P76 from the factory in Zetland and ran it in the 1979 Repco Trial, finishing a creditable 39th. For the 1995 Mobil 1 he borrowed his wife's Targa Florio P76 and finished 17th outright. Hal continues to compete in Targa Tasmanias and still own several P76s, including the Targa Florio in rally trim and in  beautiful condition. (To state the obvious Hal Moloney is not an advocate of the argument that the Leyland P76 was a lemon.)
Through his Hunter Valley based Australian Historic Rally Group with its frequent reunions and reprise events, Hal has sustained the connections that made this book possible. Beyond that he does not take readers into his confidence to explain the full research process that underpins the book. But a few years back, in the course of collecting material on Ken Tubman and Evan Green, I was fortunate enough to visit Hal in his home in an outer suburb of Newcastle. Hal was hard at work on the research. One of his major sources was the newspaper material all listed on Trove, a digitalized, fully searchable compendium of newspapers readily available through the website of the National Library of Australia in Canberra. I was struck by what a wonderful thing it was to be able to (for example) find out the details of a car entered in the 1955 REDeX Trial by a dentist and chemist in Deniliquin by simply typing in the search details and then reading the relevant extracts from a local  newspaper, the Riverine Herald or whatever, on the screen of your computer. All from your study at home in Newcastle. Trove is not just for 'pointy headed academics' but for everyday historians, hard-working, taxpaying citizens. It is a national treasure. Yet Trove and the National Library are frequently subject to budget cuts from the philistines that run this country. They ought not to be.
As a book Long Distance Trials in Australia by Car Plane & Motor Cycle is not a thing of beauty. It is privately published, spiral bound, utilitarian and there are occasional typos. There is no index but given the proliferation of names and detail, it is easy to understand why. To make the book more attractive visually, a commercial publisher might well have persuaded Hal to include some larger colour images of rally cars in action, rather than the proliferation of tiny black and white ones. (Those wishing to consult larger, colour images from Hal's collection can do so online at  https://aussieroadracing.homestead.com/HalMoloney1.html)
On the positive side it is the content, rather than the presentation, that matters most. As well there is an excellent essay on the historical context of the REDeX trials written by Dr Georgine Clarsen of the University of Wollongong. Many times Hal has s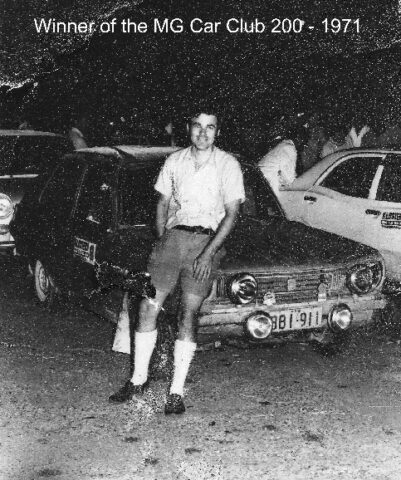 pliced in the personal accounts of drivers and navigators of various events – including his own, and these are invariably entertaining and illuminating.
Above all this is a reference work, suitable for establishing the facts, settling controversies, recording for posterity. At the end of the book the fifty pages of detailed, closely typed tables of every car entered in Australia's major long dista
nce events are mind-boggling. These include the results of the  three REDeX rallies, the five Ampol trials, the three Mobilgas trials, the 1979 Repco trial, two Mobil 1 Trials and the 1998 PlayStation event.
Hal includes the details of every car, its crew, where they hailed from , as well as their results. There are literally thousands of cars, the exercise  a tribute to Hal's persistence, research skills and Trove. Did you know, for instance, that there were no fewer than ten Monaro GTS 350s entered in the 1970 Ampol Trial? Apart from the one driven by Colin Bond, Brian Hope and Tony Roberts that came third, none did especially well. Still, that is a significant number of valuable Holdens that never made it to the booming classic car market of 2019!
Long Distance Trials in Australia by Car Plane & Motor Cycle enhances Hal Moloney's reputation as the preeminent historian of rallying in this country, in the same league to rallying as   the late Graham Howard was to circuit motor racing. No one who loves the 'cult of the flying topsoil'- the term Bill Tuckey's alter ego, Romsey Quints, coined to describe rallying- can afford to be without a copy.