THE MOTOR COLLECTIONS AND MUSEUMS OF INDIA
[Firstly, a note from our Chairman about this special contribution: I met Kooverji and some members of the Classic Drivers Group in Mumbai, in March 2018 and we have been corresponding and Zooming since that fortunate morning. He was our first 'Global Correspondent' and his first letter on our site gave us his understanding of the motor heritage of India. I have learned much from him about classic cars on the sub-continent, and I asked him to write about the major museums there, with a view planning another trip to his marvellous country … maybe that will be again possible after the pandemic. This letter in response is his careful, useful guide which indicates the riches hidden there. Recommended!]
Any discussion on automobile museums In India must necessarily be preceded by an overview of the evolution of the Indian classic car movement, which we shall briefly review in this letter, and we will then describe five prominent museums. These are institutions that are open to the public, not to be conflated with eminent "collections" of which there are many.
You will recall that in my first letter The Motoring Heritage of India I said that after Indian Independence in 1947 and the absorption of the former princely states into the Union of India, the sudden changes in economic and social circumstances generally rendered classic vehicles worthless in the eyes of most Indians except for a very few. Untold numbers of prestigious marques were either scrapped outright, or were left to wither away into oblivion.
With the advent into India in the early 1960s of western enthusiasts and dealers who sought out hitherto unwanted marques such as Rolls-Royce, Bentley, AlfaRomeo, Hispano-Suiza, Isotta Fraschini, Delahaye, Delage, Duesenberg, Invicta, Alvis and Lagonda, a nascent awakening was discernible amongst a miniscule number of Indians. Foremost among them were Protap Roy and Roni Khan, who actively ferreted out or bought forgotten examples of great marques and saved many a car from destruction, thereby doing signal service to the classic car movement. The names of Harishchander Agarwal, and Ramchander Nath would bear honourable mention.
By the late 1960s these collectors were joined by Pranlal Bhogilal, who made it his mission to buy all sorts of unwanted cars, building in the process a collection of nearly 200 cars most of which he later housed in a museum which we shall presently describe. It must be borne in mind that at the time, owners of classics found it difficult to find buyers, and those who could, sold their cars for the proverbial song, for as little as a few thousand rupees.
By the 1970s many of the great marques had been exported to the West, leaving behind those staples of Indian royalty and aristocracy – Rolls-Royce, Bentley, Daimler, Lagonda and Alvis, and even amongst these, the better ones vanished abroad. By the 1980s the classic car movement evolved to the point where several enthusiasts started acquiring classics, not for the status symbols they have now become, but out of inherent passion. The best-known was Mr Vijay Mallya, the flamboyant businessman, racehorse breeder and owner, known for his huge yachts, private Airbus aircraft, and lavish parties.
The turn of the century saw the movement spread to a much wider audience to the extent that demand far exceeded supply, causing prices to spiral to dizzy levels, an unanticipated reversal of the "old days". In the West private collections gradually transformed themselves into museums, but since the Indian classic car movement has lagged its counterparts in the West by a few decades, most cars even today remain in private collections rather than in museums.
VINTAGE AND CLASSIC CAR COLLECTION, UDAIPUR
Among the princely states of the erstwhile Rajputana Agency of the British Raj, the pre-eminent state was Mewar, whose capital city was Udaipur, called the "City of Lakes". Famed for the fabulous palaces of its former ruling family the Sisodia clan with its lovely hotels Jagmandir Palace and Lake Palace situated on islands in the blue waters of Lake Pichola, Udaipur epitomizes the romanticism of the Rajput clans, and is usually the foremost destination on any itinerary of present day Rajasthan.
The classic car lover is unlikely to return disappointed, either. It may well be said that the royal garages of the former rulers have been brought back to life by the patrician and historically minded figure of Shriji Arvind Sinhji Mewar of Udaipur, the seventy-sixth custodian of the House of Mewar, and a car enthusiast himself.
The former Mewar State Motor Garage is situated in a semi-circular courtyard which is in turn part of a larger courtyard and was established at a time when the only cars in Udaipur were those that belonged to the royal family. The former garage was reinvented as a museum and opened in February 2000 by Lord Montagu of Beaulieu, as the Vintage and Classic Car Collection (VCCC) and houses some 21 vehicles most of which are single owner cars bought by members of the royal family, as well as horse carriages. In Rajput royal tradition, cars were never sold; they were invariably gifted away. Sadly, many were given away over the years, including Rolls-Royces.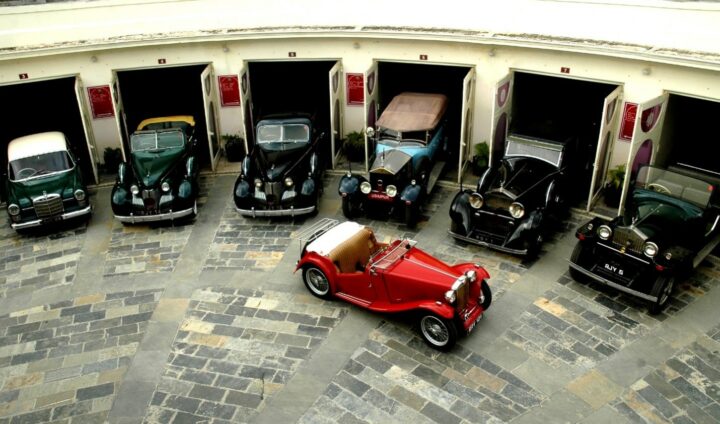 Among the remaining cars, the most special is probably a 1924 Rolls-Royce 20 h.p. with Barker coachwork. The car was restored during the early 2000's under the supervision of renowned authority Graham Ashley Carter supported by the in-house VCCC team led by the Keeper Anu Vikram Singh and was displayed at several shows where it was awarded the "Lucius Beebe Trophy" at the 62nd Concours d'Elegance at Pebble Beach in California in 2012, and "Best in Class" at the Cartier Concoursd'Elegance in Mumbai in 2008. Another famous Rolls-Royce is a 1934 Phantom II withSedanca de Ville coachwork, which starred in the 1983 film Octopussy and in the television series The Jewel in the Crown.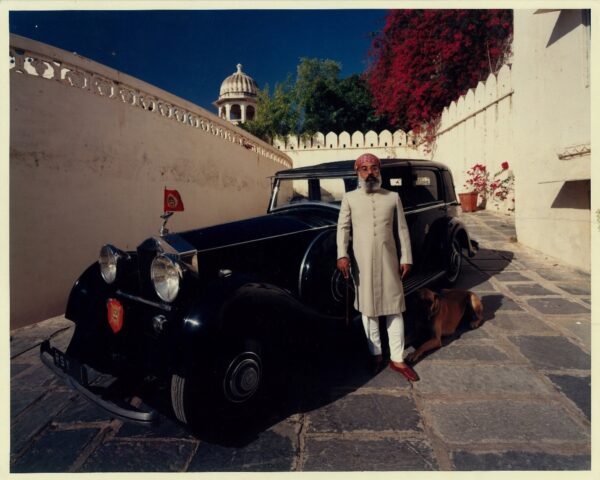 Shriji Arvind Singh Mewar of Udaipur with the 1934 Rolls-Royce Phantom II and pet dog RustomAmong the other two is a Thrupp & Maberly-bodied 20/25 h.p. which was re-bodied locally into a Jeep-type vehicle to ferry the Mewar cricket team. Of the two 1939 Cadillacs, the Series 61 four-door convertible with right-hand-drive is rather rare, with reportedly only some 140 having been made. The other is a Series 75 seven-seater saloon.
Both Cadillacs are not only very original, but are also low mileage, principally having been used to transport important visitors such as Queen Elizabeth II and then American First Lady Jacqueline Kennedy.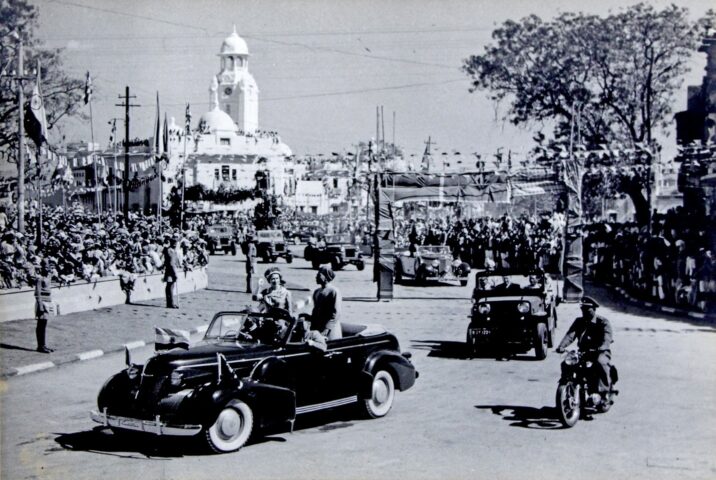 Among the other cars are a 1947 Buick Super, a couple of Morris cars, a 1936 Vauxhall, and a Ford Model A. A beautifully restored red 1947 MG TC is used as a daily runner by the Maharana. Cars which were once used regularly by the royal family include post-war Mercedes-Benz, and a 1961 Austin Cambridge. Chevrolet is represented by a 1946 truck and a 1947 bus, the former carrying camping gear for royal camps and the latter the accompanying retinue. An antique Shell petrol pump, said to be still in working order, still stands on the property at VCCC, Garden Hotel. All the vehicles are meticulously maintained and spotlessly polished, reminding the visitor of the imperial times for which they were created.
GEDEE CAR MUSEUM, COIMBATORE
The late G.D. Naidu (1893-1974) was not only a well-known industrialist in the southern Indian city of Coimbatore, but was also an inventor, educationist and philanthropist, popularly known as "the Edison of India". Passionate about automobiles, Naidu specifically admired the engineering capabilities and workmanship of German cars and of Rolls-Royce to the extent that he personally instructed students of the automobile institute he established. Unable to bend due to advancing age, in 1960 Naidu stripped the body of a 1925 Rolls-Royce so that he could comfortably instruct his students about its mechanicals. Naidu, and later his son Mr.G. D. Gopal, collected some 70 exclusive cars, which were later donated to a trust named G.D. Naidu Charities and housed in a museum, the main objective of which is to educate the general public about the history of the automobile, inventions and advances in automobile technology, and the men behind them.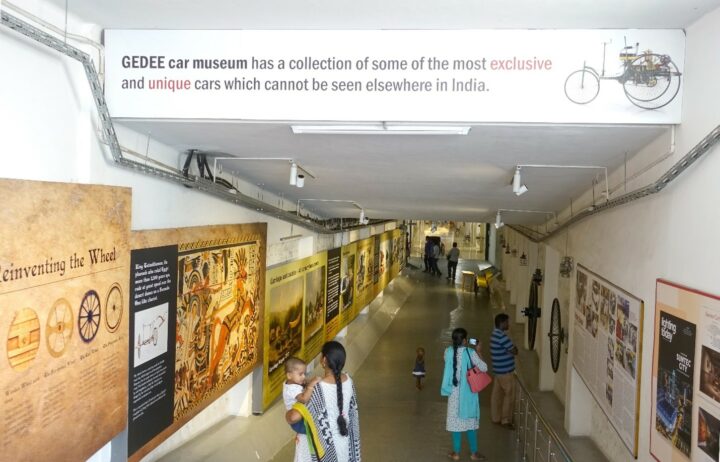 The Gedee Car Museum was set up by his son Mr. G. D. Gopal and was inaugurated in 2015 in the presence of several eminent personalities. The visitor is greeted at its entrance by posters and pictures of the evolution of the wheel and the automobile, followed by a working replica of the 1885 Benz Motorwagen. The displays are tastefully done, with a placard for every car bearing its description and history. The lighting and the layout cannot be faulted, and the museum is divided into sections on American, British, German, French, Spanish, and Japanese cars, and a special section on unique cars and their inventors. Unlike many museums that take pride in displaying prestigious marques, the Gedee's theme is the display of everyday cars through the years.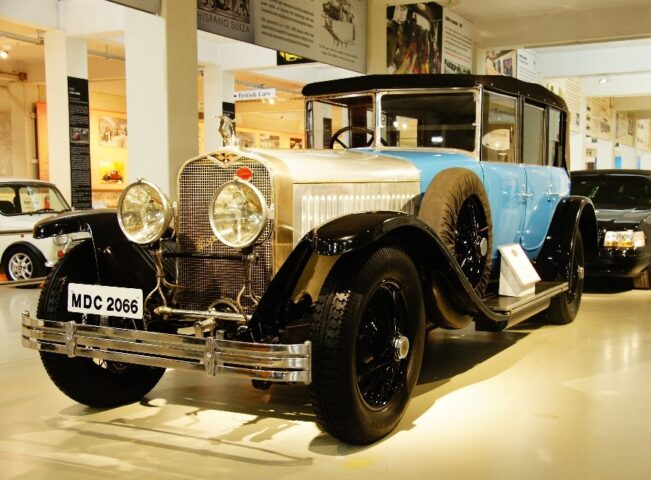 The star of the show is a beautiful 1925 Hispano-Suiza H6B with Saoutchik coachwork, ordered new by the Maharaja of Mysore, and believed to be the only surviving example of the marque by Saoutchik. The oldest car on display is a working replica of the first automobile, the 1885 Benz Motorwagen designed and built by Karl Benz, followed by a
1926 Ford Model-T. At the other end of the temporal scale is a Rolls-Royce Silver Shadow, two Cadillacs, and a Porsche Boxster. Among the British and American cars on display are the abovementioned 1925 Rolls-Royce 20 h.p. (now reunited with its body) and the 1976 Silver Shadow, 1926 Morris Cowley, 1948 Morris 8 Series E, various Austins, 1949 MG TC Midget, 1949 Packard Super 8, 1947 Chevrolet Fleetmaster and 1931 Independence, 1948 Oldsmobile Dynamic 60, 1954 Chrysler, 1958 Studebaker President Classic, and two Cadillacs, a 1993 Seville and a 1997 Deville stretch Limousine. The French, Italian and Japanese cars are an eclectic mix, consisting of Citroen, Peugeot,
Fiat, Mazda, Subaru and Toyota. The German section is interesting in that apart from Mercedes, it contains rarities like a BMW C1, 1937 Hansa, 1939 Hanomag, 1938 DKW F7 Klasse, and even 1969 Trabant. Particularly interesting is the collection of bubble cars of the 1950s, 1955 BMW Isetta, 1971 Fuldamobile, 1961 Messerschmitt, and 1963 Heinkel Kabine.
A special section is devoted to the five unique cars and their inventors which Mr. Gopal believed played pivotal roles in the development of the modern automobile, namely, Karl Benz with his 1885 "Motorwagen", Henry Ford with his 1908 Model "T",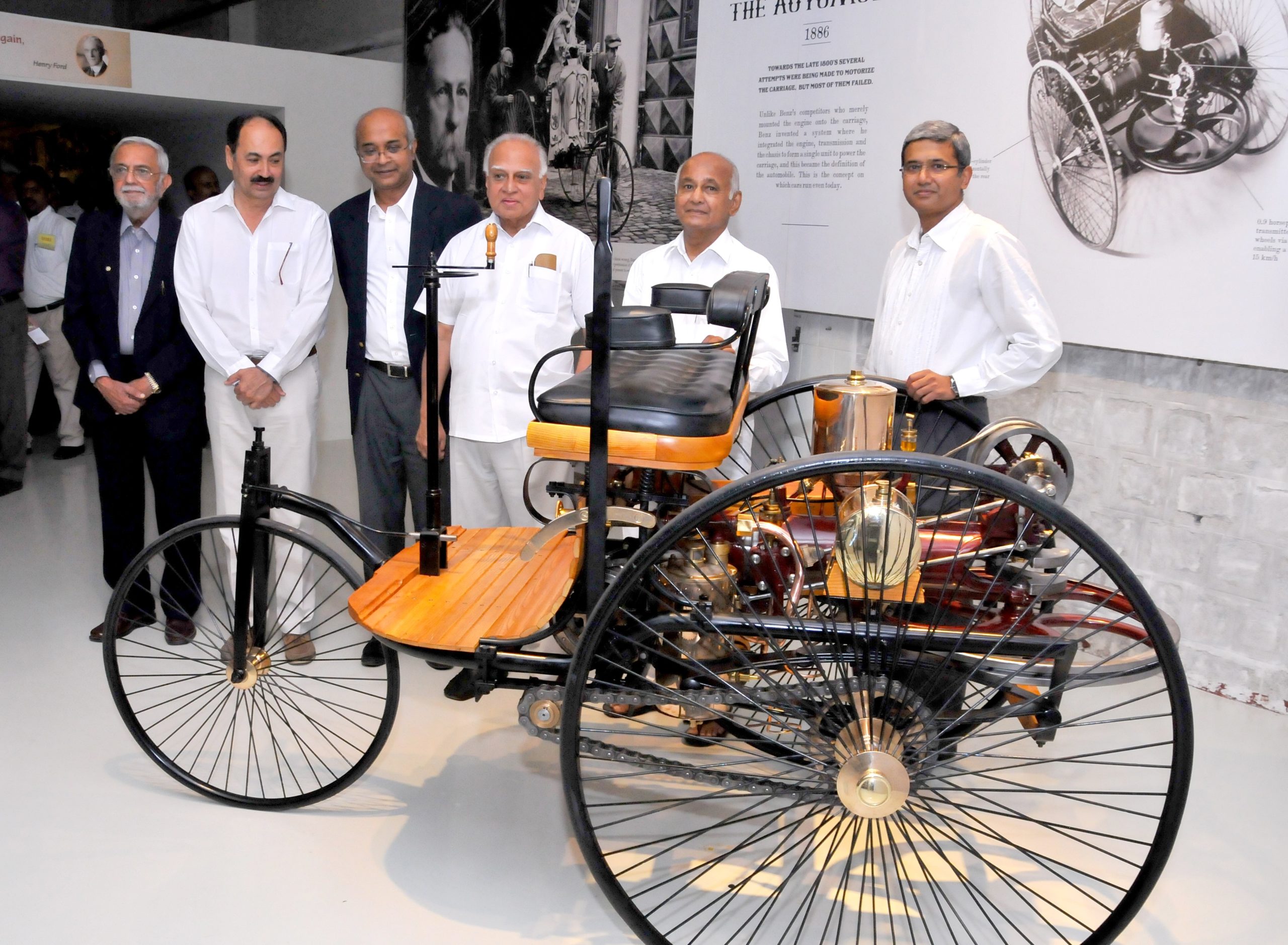 Ferdinand Porsche with his 1939 "Beetle", Pierre Joules Boulanger for conceptualizing the 1948 Citroen 2CV, and Sir Alec Issigonis for the 1959 "Mini-Minor".
As a tribute to Mr. Gopal's penchant for mechanical perfection, the museum also has its own facilities for restoration and upkeep of cars. The Gedee Car Museum is a member of FIVA and gets more than 200 visitors every day.
AUTO WORLD VINTAGE CAR MUSEUM, AHMEDABAD
Pranlal Bhogilal (1937-2011), according to his family, hailed from a wealthy and aristocratic industrial family from Ahmedabad and Mumbai. At a time when Indians were busy embracing modernity and feverishly discarding their past, Bhogilal, with remarkable foresight, discerned the value of these incredible classic cars, which he envisioned as works of art and acquired at modest prices. He was instrumental in bringing about the ban on the export of classic cars in 1972 and at one time had the largest collection of nearly 200 cars. The oldest cars are a 1906 Mors and a 1906 Minerva, with the majority spanning the interwar years up to the 1960s.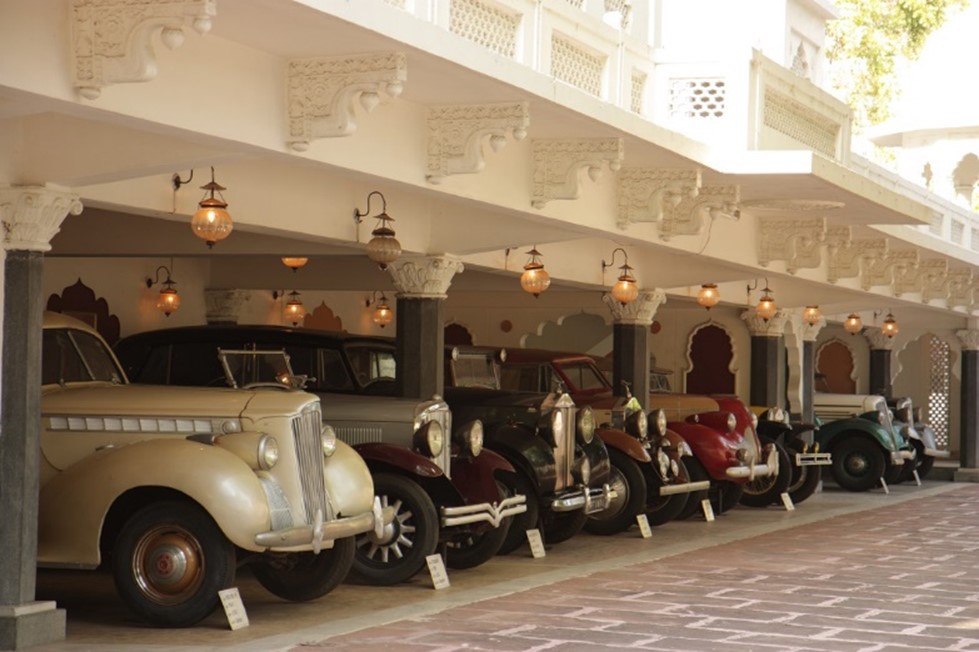 The collection includes about 35 Rolls-Royce and Bentley cars, mostly from former royal stables. The exceptional cars include a 1927 Hispano-Suiza H6C with Mulliner Salamanca limousine coachwork ex-Alwar, a 1939 Maybach SW38 with saloon coachwork by Spohn ex-Kotah, a 1929 Bentley 8-litre, a 1936 Mercedes-Benz 540-K said to be similar to the one owned by the former Eqyptian King Farouk, a 1940 V-12 Lagonda drophead ex-Baroda, a 1932 low-chassis Invicta S100, two Auburns, one a 1931 Auburn V-12 ex-Hyderabad and the other an 851 roadster, a 1936 Cord 810, a 1938 Hotchkiss (ex-Nandgaon), and a 1956 Mercedes-Benz 300Sc cabriolet ex-Chogyal of Sikkim.
Among the others are Rolls-Royces such as 1923 Rolls-Royce roadster by Hooper ex-Hyderabad, 1932 20/25 duck-tail tourer with Hooper coachwork ex-Mandi, 1937 Phantom III with Sedanca de Ville coachwork by Hooper, ex-Nabha, 1937 Phantom III saloon by Windovers ex-ChhotaUdepur, 1947 Silver Wraith ex-Hyderabad, and 1965 Phantom V by Mulliner-ParkWard.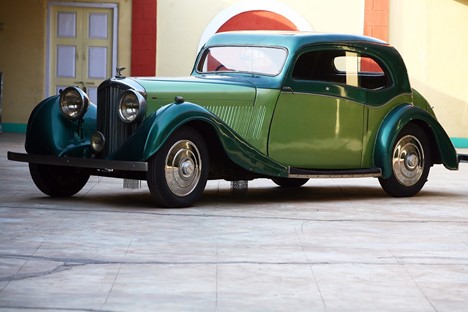 Bentley is represented inter alia by a 1935 3.5 litre with cabriolet coachwork by Vanden Plas ex-Bhavnagar, a 1935 3.5 litre with Gurney-Nutting saloon coachwork ex-Indore, a 1934 Bentley 3.5 litre Derby Special, and a 1948 Bentley MkVI two-door saloon by James Young ex-Mysore. Several Packards including an 840 from 1931, and a 1930 Packard 745 tourer form part of the collection.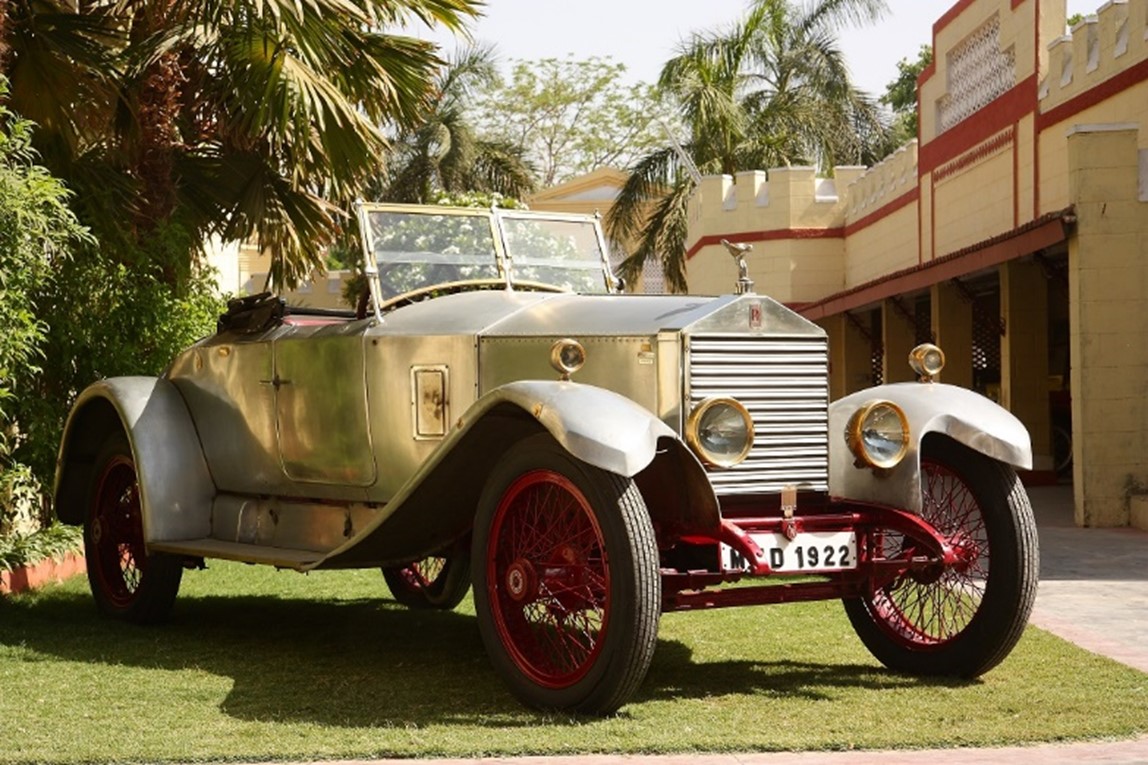 Of interest to an Australian audience may be the 1948 Daimler DE36 all-weather tourer. The Australian Government had ordered six DE36 cars for the intended tour of King George VI and Queen Mary in 1949, which was cancelled due to the Sovereign's ill health. Two of the brand-new cars were sold to the Maharaja of Mysore, one of which was later acquired by Bhogilal.
A range of American and European marques of all kinds rounds off the collection. Many possess royal provenance and are very original.
Probably because most exotic marques were spirited out of India before the ban on exports was instituted, not to mention many which left thereafter, Bhogilal's collection mostly lacks the prestigious marques highly sought after by western collectors such as the big Duesenbergs and Stutzes, the V-16 Cadillacs, Delahayes, Delages, Alfa Romeos, and Bugattis. Still, Bhogilal's signal contribution is that he saved many cars from either destruction or export, and to that extent, retained Indian heritage within the country.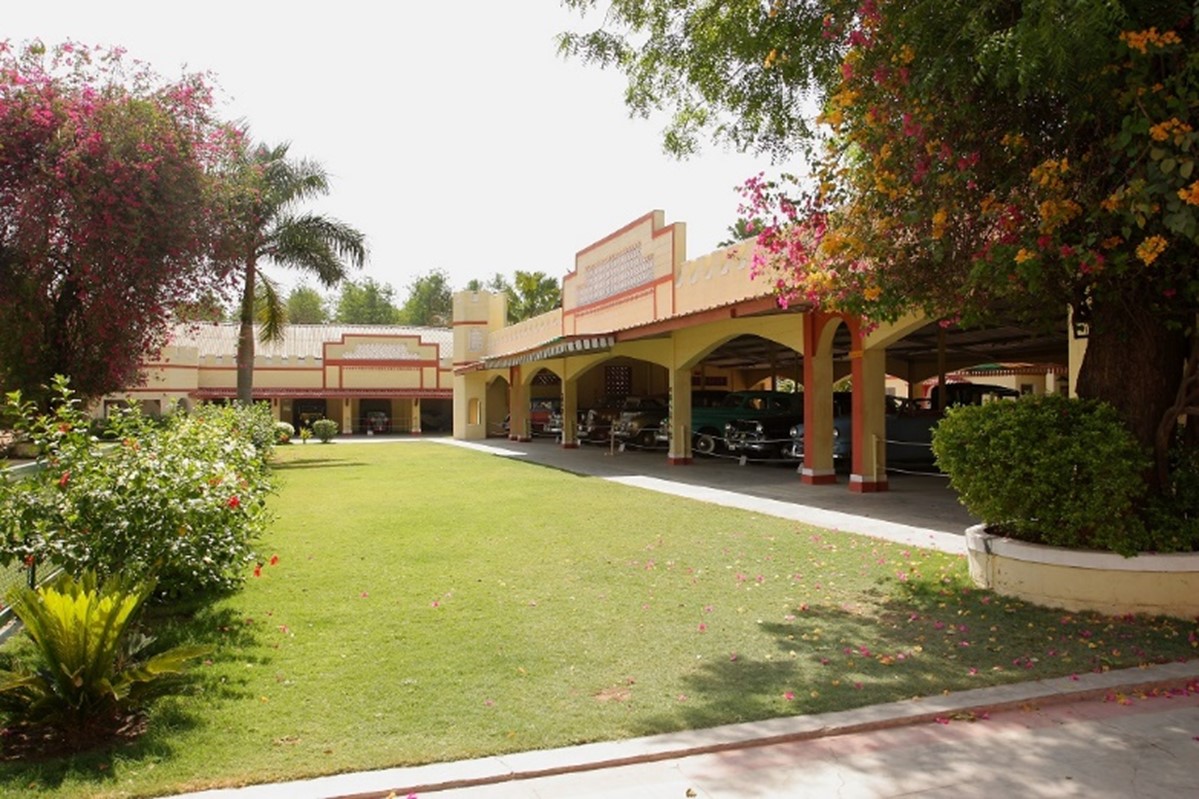 Bhogilal built a museum on an 890-hectare estate outside of Ahmedabad called Auto World, which opened in 2006-7, decorated with manicured lawns, colourful flowers and fountains. The museum hosts the bulk of his collection, including animal-drawn carriages of old. Some cars are kept at his houses in Mumbai and Ahmedabad.
MANJUSHA VINTAGE CAR MUSEUM, DHARMASTHALA
The small town of Dharmasthala on the banks of the River Nethravati, about 300 km from Bangalore, houses an old, and very revered temple, headed by Dr Veerandra Heggade, the twenty first to occupy the seat. A multi-faceted personality, in addition to his religious duties, Dr Heggade initiated programmes for education, rural development, and health. He is also an avid collector, who has over a span of some 35 years collected a wealth of items such as antiques, paintings, objects d'art, palm leaf manuscripts, sculptures, jewellery, Indian musical instruments, as well as vintage cars, temple chariots, and other animal-drawn vehicles of yore. This article is concerned with the Manjusha Vintage Car Museum established by Dr Heggade.
The star attraction is a 1948 Daimler DE36 Landaulette, originally ordered as one of six Daimlers for the proposed Australian tour of King George VI and Queen Mary in 1949, and cancelled due to the Monarch's failing health. Two of the cars awaiting shipment from England were then sold to the last Maharaja of Mysore who in turn disposed them off around 1970. One, an all-weather tourer, was acquired by Bhogilal, as described above.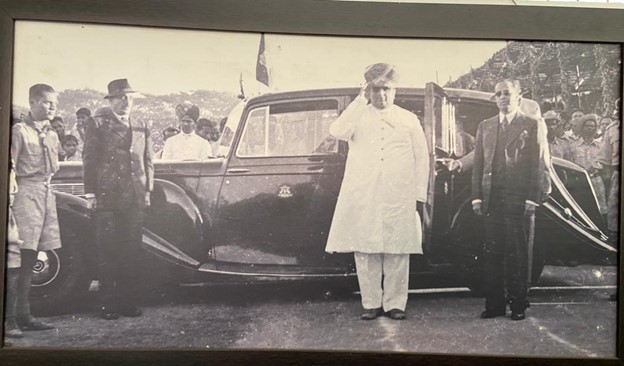 The other was thought to have been lost but was "rediscovered" by the world after Dr Heggade wrote to the Daimler Lanchester Owners Club in 2010 informing them that the car is in his possession.
Some of the 35 or 40 exhibits include a 1924 Rolls-Royce 20 h.p., a 1946 Packard saloon, a 1926 Mercedes-Benz tourer, a 1936 Adler drophead, a 1937 Chevrolet, Austins and Fiats (1925 and 1931), a 1929 Studebaker, a 1947 Frazer, a 1930 Opel Kadett, a 1934 Sunbeam tourer, a 1929 Vauxhall, a 1937 Skoda roadster, and a 1943 Jeep. Two interesting exhibits are a 1926 Merryweather fire engine and a 1941 Soviet military vehicle called "Yaz". Photography of exhibits is prohibited. A photograph of the Daimler DE 36 with the Maharaja of Mysore, was furnished by Mr K.P. Subaiah of Bangalore.
HERITAGE TRANSPORT MUSEUM, GURGAON
Tarun Thakral, a collector of automobile memorabilia and vehicles over the past quarter century, decided to create a museum which he opened in 2013, around the theme of transportation in India over the ages. Situated about two hours' drive from Delhi, the museum is set in a 3 acre plot, is spread over four levels encompassing about 95,000 square feet, is divided into various sections, and has beautifully executed descriptive posters and pictures.
The Pre-Mechanised Gallery commences with the wheel, and displays typically Indian modes of transport such as palanquins, howdahs, bullock/camel carts, horse carriages, along with decorative objects, such as carriage and carbide lamps.
The Automobile Gallery is broadly divided into two parts. The first showcases the history of the Indian automobile industry, with a display of locally assembled or manufactured cars from the stables of Hindustan Motors, Premier Automobiles, Mahindra & Mahindra, and some American cars such as Studebaker.
The International section displays an eclectic collection including DeSoto, a 1957 Ford Fairlane Skyliner, Hudson Commodore, Land Rover, Renault and Peugeot. In keeping with its theme, the collection abjures prestigious marques. Individual collectors are encouraged to lend their cars for display, in order to introduce variety.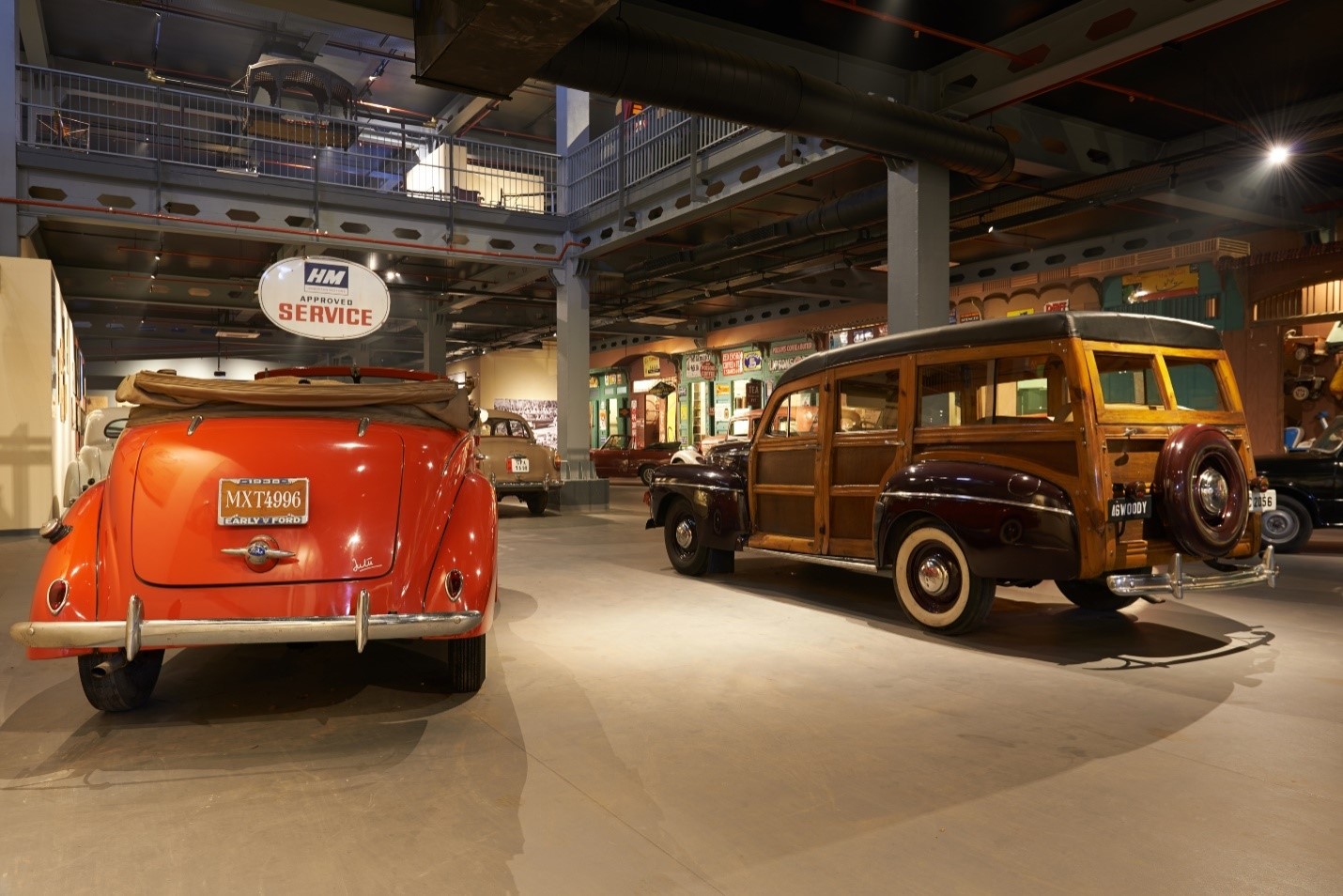 Designed like a typical Indian bus depot, the Heavy Vehicles Gallery attempts to re-create the atmosphere of dusty, bumpy, Indian bus journeys, through a display of restored buses and vans, and also displays "truck art", unique to South Asia, which involves painting trucks in colourful motifs with unique signage, the most famous being "Horn OK Please", a tradition rapidly dying out with the advent of international truck makers into India and large fleet operators. The Rural Transportation and Two Wheeler Gallery displays the principal mode of Indian transport, namely, the two-wheeler (motor cycles, scooters, mopeds and bicycles), epitomized by the Italian Vespa and Lambretta, as well as that wonderfully Indian hallmark called "jugaad", loosely meaning improvisation which in the context refers to "home-made" vehicles used by rural folk. The romance of rail travel during the Raj and its immediate aftermath, trains such as the Frontier Mail and the Deccan Queen, and the various locomotives that hauled them, needs no recounting. That atmosphere is sought to be recreated through a historically accurate station platform and a restored saloon coach used on the erstwhile Bombay Baroda & Central India Railway in the Railway Gallery. Models of locomotives, and items such as old tickets, railway maps, and posters are displayed all around. Three real life steam engines, acquired from the railways and painstakingly restored, are displayed and actually run on tracks laid outside the museum. The Aviation Gallery traces the growth of that industry through early pioneers and Air-India, and memorablia such as tickets, timetables, and posters. The display is rounded off by a Piper Cub which hangs in the gallery above the visitor. The story of India's inland waterways and their decline and the river Ganges is recounted in the Maritime Gallery, accompanied by models of boats and etchings.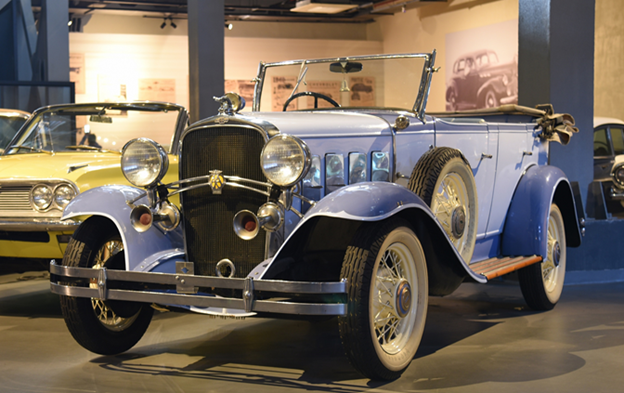 Credits for Photographs and Contributions: Our thanks to Mr Anu Vikram Singh (the Vintage and Classic Car Collection, Udaipur); Mr Suresh Naidu (the Gedee Museum, Coimbatore); Mr Brijesh Chinai (the Auto World Vintage Car Museum, Ahmedabad); and Mr Tarun Thakral (the Heritage Transport Museum, Gurgaon), and to Mr Makarand Baokar and Mr KP Subaiah for photographs of the Auto World Museum and the Maharaja of Mysore's Daimler, respectively.