We are over and done with the summer holiday season. I was overseas twice, double-dosing on the marvellous post-pandemic freedom of travel. I am not sure that our hard-working team really noticed my absence, and that was a fantastic outcome.
We have helped to celebrate the 60th anniversary of the CMC (NSW), our marvellous early Partner. We see the progress being made by the ARDC on constructing the Australian Motorsport Innovation Precinct or AMIP nearby our building, nearing completion now.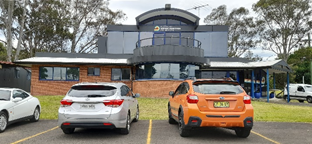 We have welcomed new clubs as Supporters and most recently Distinguished Gentleman's Ride, the superb entity founded in Sydney by Mark Hawwa to support cancer research and men's mental health, now a world-wide enterprise. We have visited the Australian headquarters and have welcomed Mark to our home this month.
Meantime the progress at your Foundation in this new year has been remarkable. The highlights as I see them are –
We have last month obtained full funding needed for the nation-wide professional survey of clubs and the analysis which will result in our AMHF Report on the Economic Value of Australia's Historic, Classic and Heritage Motoring Industry. For this milestone we owe Director Tom Wheelwright and his Volunteer team the greatest praise. And we thank all our donors, they know who they are, all will be disclosed in due time.
This Report will be independent, non-partisan and unprecedented in Australia. It will be a tool available initially to all our donors and then for limited sale at a break-even price (the AMHF is a non-profit charity). It will set out the figures and the trends that may surprise us.
We have got the substantial donations, experts and support for this needed Report without having to approach any government sources. This ensures independence from any partisan interest, and it will attract attention for that feature alone. It is being handled by your Foundation without fear or favour, for the clubs and with excellent inputs.
The AMHF has broken new ground with the Australian Tax Office last month, by getting Deductible Gift Recipient ('DGR') status for the Library. This is a vital, hard-earned status for our library, and our online resource in the education research and teaching area. All credit to our internal team led by Director Shamus Toomey and Treasurer Mike Mekhitarian.
Our digitisation program of our library of books, brochures, media reports and other literature is well under way. The first large tranche of scanned materials is now in the Microsoft Cloud, in our unique proprietary database (built by our Partner, Bill Fatouros at First Software Solutions).
The DGR status is already putting a rocket under our efforts to fund the development, maintenance and use of our large resources. Already it has enabled a substantial first donation of $20,000 to fund our pilot program for digitisation.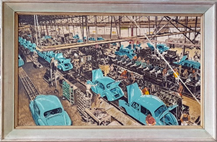 We received last month our latest large donation of unique material, this time relating to the work and products of BMC/BLMC over many years. The donor is our long-term supporter the BMC-Leyland Australia Heritage Group (President, Greg Kean and Vice-President Kay De Luca).  This is the only big collection yet held by us on the history of motor manufacturing in Australia. We hope for others.
We are on the lookout for and would warmly welcome new Volunteers to the team. We are on-site every Wednesday and soon to be also on Thursdays. There is much to do and there will always be something that suits your interest and experience where you can really add value to our objectives and enjoy yourself at the same time. Please do not hesitate to contact us if you can Volunteer. There are no expectations that you attend every week as many of us have a lot on our plates.
The month has been very busy as well as hot, and all is good. I wish you all a great year now.
Hugh King
Chairman
March 2023