Book Review by Hugh King (Chairman, AMHF)
This is a slim (soft cover, 176 page) self-published volume that excellently fills a gap in the knowledge of Australia's motor heritage. The author Russell Hall has provided his own review of the work in his preface which a reader cannot fault (except for the modesty that is on display):
"There has never been a comprehensive study of the early years of Peugeot in Australia published before. Much has been forgotten, particularly around the period of the 1920's but also of more modern times. This study is general in nature and will not satisfy those who want more detail while others will find too much. It is perhaps most heavily weighted towards the period of the 203, understandable given the importance of that model to post-war enthusiasts.
I have included some material on the company in France during the 1930's and the war years as I feel it gives a good feel of what made Peugeots exceptional cars.
Mention must be made of the Peugeot Car Club of Victoria and its excellent magazine Torque which has kept discussion of historical topics alive. The late Gordon Miller through his Worm Review and Worm Registers did much to maintain interest in the early post war models and to support their restoration.
Although the internet is an excellent source of photographs serious material is in short supply. French car discussion sites are disappointing affairs, either moribund or hostile places for independent minded outsiders.
Knowledge is easily forgotten and lost. This work is a contribution towards keeping an interesting part of Australian motoring history alive."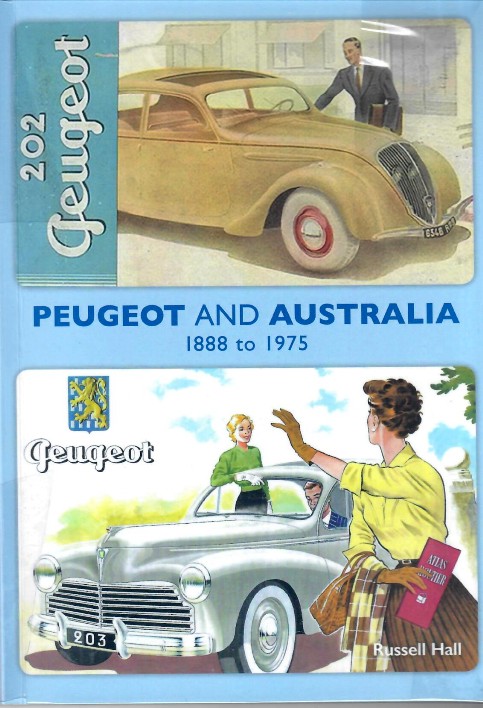 We should revere the sentiment behind that last statement. We need more books like this one. Russell Hall has sewn together narratives, quotes and photographs that provide us with a really useful introduction to the marque. It reads well and leaves a strong impression that Hall not only loves the marque but also has taken care to leave us with an authoritative work that will endure.
Peugeots have never been numerous on Australian roads (Hall says that about 40,000 were imported up to 1975) but they have impacted on our motoring history, and not only by reason of Ken Tubman's big win in the 1953 Redex Round-Australia Trial in his Model 203. And the outright victory for the 403 in the 1956 Ampol Trial too. However in Australia they were relatively expensive cars up against severe competition and were suffering then from some dealership woes, Hall covers this aspect frankly. Today the Peugeot Car Club is one of the best-supported and active marque clubs in Australia.
Russell Hall
Corndale Victoria; published 2018