Book Review by Hugh King (Chairman, AMHF)
This remarkable, large and very specialised local work deserves a full review from our own specialist in matters of Australian motor manufacturing lore, the redoubtable Robbo. Surely he will oblige soon and place this rather beautiful book in its proper historical context for us.
Briefly, the editor and publisher is the daughter of Leslie Gould, and she has produced fine facsimile copies of her father's irreplaceable detailed record kept while in the USA as an emissary of General Motors-Holdens in 1946. He remained on site for eight months, his mission being to focus on engine manufacture only and to equip GM-H with the knowledge and the home-base connections that would enable local production of engines for the planned Australian car. He was given privileged access to all the principal General Motors facilities, travelling mostly solo to study the engine production techniques not only in Detroit but also all the other centres in the GM's North American empire of the day.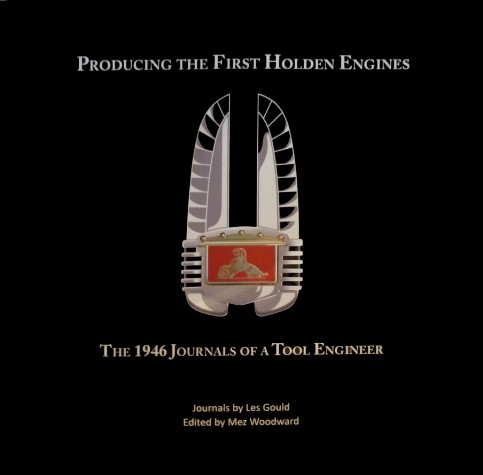 Les Gould was one of six GM-H engineers selected as an Australian 'Project Team' that arrived in Detroit in March 1946. While the first prototypes for GM's Australian car were being developed by others, Les Gould went off on his own and "studied the production of engines and related mechanical components in detail, including manufacturing methods and equipment, tooling, maintenance, quality control and people management, recording in his journals with detailed notes, drawings and charts".
Those hand-written journals have been reproduced in their entirety by Les' daughter who has provided an interpretation in type alongside the text for every entry. This invaluable assistance enables the reader to appreciate the extraordinary skills and diligence that her father brought to his unique mission. And it contributes remarkably to the record of the heritage that was built up within GM-H as (Sir) Laurence Hartnett and his team worked toward production of the first Holden cars in times of post-war shortage and duress.
As Les Gould and the Project Team from GM-H were undertaking their work in the USA another book was being compiled under the direction of Laurence Hartnett in his capacity as Managing Director of GM-H. Having successfully completed his exhausting and varied war work while simultaneously managing the Australia-wide operations of GM-H, and having also convinced his American senior management to invest in development of an Australian car in a difficult political environment, Hartnett was about to be dismissed from his roles at GM-H. Before he departed, he signed the preface to a special work published by GM-H dedicated 'to the employees of General Motors-Holdens who served on the battle fields and production fronts'. It is titled "War Record – September ,1939 to August, 1945" and is a lavishly produced, fully illustrated hardback work of 185 pages that is a careful record of all that was accomplished by the company and its dedicated workforce across Australia with depleted resources and under the tightest of schedules, in support of Australia's desperate efforts to supply and develop weapons and supplies for the fighting forces. Great things were achieved in the design, production and replacement of Australian guns, aircraft, small ships, engines of several types, machine tools for the forces, transport vehicles, even pontoon bridges and barges. Mechanics were trained for the forces, men were seconded from the workforce to fight and to die.
Hartnett was insistent that the great effort and ingenuity of the Australian company's workers should be well commemorated in this book. Some of the narratives are frankly astonishing and some of the figures that are recorded without embellishment are equally amazing.
The fact that Les Gould and his five companion engineers were selected by Hartnett and dispatched to the Detroit in 1945 against, it seems, the wishes of some in power in the GM hierarchy represents a turning-point in the history of the motor car in Australia. In Les Gould's journals we now have a special part of Australia's heritage preserved and published.
Journals by Les Gould; edited by Mez Woodward
Published by MezWPublishing, Castlemaine Australia, 2017; 280 pages; ISBN 978-0-646-97949-6
Available only from M Woodward, PO Box 858, Castlemaine Vic. 3450