Google maps tells me the distance by road from London to Moscow is 2890km. Drive a further 1130km east and you're almost to the Ural Mountains. Or the same 4020km from Sydney to Perth or one side of Australia to the other: Pacific to Indian Ocean.
When the final section of the only road across the 1300kms Nullarbor Plains, Australia's flattest, straightest blacktop, was finally sealed in 1976, Steve Cropley (now Autocar's editor-on-chief and then Wheels magazine's assistant editor), and I (in my role as Wheels' editor) decided to commemorate the opening. How better than to drive non-stop – refuelling excepted – from our base in Sydney to Perth.
Our wheels of choice: a built-for-purpose, long-legged Aussie V8. After scouring the seemingly endless options list we equipped Ford's XC Falcon 500 GS with the smaller (4.9-litre) of the two V8s, tied to a four-speed manual gearbox, and appropriate bits like air conditioning, driving lights, sports handling suspension, a limited slip differential and, most crucial, the 125-litre long range fuel tank, almost doubled the standard capacity.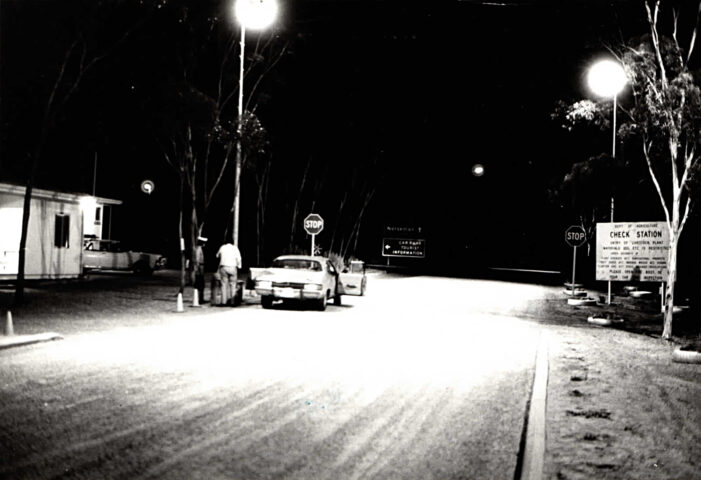 To avoid Sydney's traffic, we departed at 2.00am and arrived in Perth 32 hours 58 minutes later, for an average speed of 123.9km/h. Forty years ago fuel was cheap, engines were wasteful, and the Falcon, breathing through a Carter carburettor (remember them?), could only manage to average 23.5l/100km. The consequence of spending hours cruising at 160km/h and despite gearing that gave 41.1km/h per 1000rpm, tall for 1977. We quickly learned that fuel stops, no matter how organised the top-up, cleaning the windscreen and paying, were the nemesis of a high average speed.
After Steve moved to London to join Car magazine in October 1978, I continued to draw up lists of cars that might provide the right combination of long legs, reasonable economy – with the crucial aim a 800km range – comfort and durability demanded for a 4025km around-the-clock drive. In this era before turbocharged diesels, I could find nothing obvious beyond a 5-litre Holden Commodore with a 2.6 final drive ratio and one of the 200-litre fuel tanks used by the Commodores in winning the 1979 Repco Round Australia rally. By then the idea of trying to do Sydney to Perth in under 30-hours had shrunk into something we'd do One Day.
In 1980, prominent Alfa dealer and racer Brian Foley asked if Wheels would be interested in helping drive one of three new Alfas from Sydney to Perth to prove it could be done in a 40-hour weekend. Foley set about convincing me we could use an Alfa to break our record.
The plot evolved. Wheels would belt an Alfetta sedan from Sydney to Perth, while Foley and his team would take a Giulietta and Sud ti on a more leisurely 40-hour drive. To our 16,000km Alfetta we added a 70-litre fuel tank, to more than double the touring range of the standard 49-litre capacity, with both the auxiliary and the regular tank having their own, independent electric fuel pumps; two large Cibie Super Oscar driving lights; Koni dampers for the front suspension; and a Super Snooper radar detector.
With thorough preparations behind us, high expectations ahead of us, the question of a co-driver hung heavily. I wanted a quiet, patient, non-smoking, music-loving mechanic who required no sleep, could drive safely for hours on end at over The Ton, rarely needed to relieve himself and could get by on minimal sustenance. No compromise would be discussed. Various potential co-drivers were excluded for failing one criterion or other. Thirty hours is a long time to spend in the compulsory company of an unwelcome person.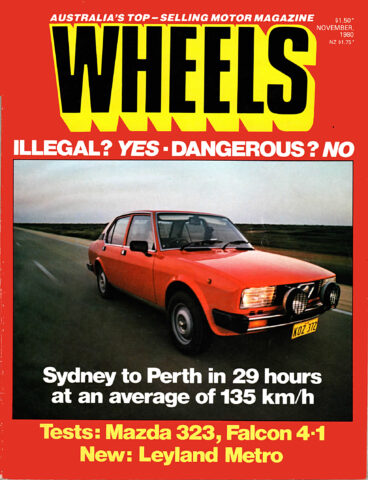 Casually, over one of the Alfa canteen's legendary lunches, I mentioned the problem to Managing Director, Silvano Tagini, and mused quietly that what we really needed was a Cropley. And that is what we got. Steve would return to Australia for a 'works' drive. It sounded magnificent and the responsibility, I realised on his arrival, weighed heavily on Cropley's normally easy-going shoulders.
Backed by a complex schedule of estimated times of arrival and departure, average speeds, fuel costs and quantities worked out by Foley, with the knowledge that we were going to be met in Broken Hill by an Alfa engineer and in Port Augusta by senior mechanic from the Adelaide Alfa dealer – just in case the car required attention – our adventure was taking on the proportions of a highly organised professional event.
Until. After collecting the Alfetta the instruments indicated the car was overheating, had virtually nil oil pressure, and developed a hideous miss in a traffic jam. Frantic phone calls to Alfa did something to allay my worries and the car then run perfectly. Cropley, however, was not impressed. He had, he emphasised, come halfway round the world to drive to Perth in under 30 hours and I was telling him our transport was perhaps less than perfect.
We departed at 4.03am, Sunday with a continent to cross.
A mile later we caught our first red light. I looked at Cropley and suggested running the red, but he pointed to the taxi approaching from the left. We sat and waited and waited for what seemed like five minutes. I muttered something about losing so much time we should turn around and go home. Cropley pulled a determined face, and I knew bed was something he was willing to forgo for 30 hours.
I wound the Alfetta out away from the lights, checked that the radar detector was working and settled down to the task of getting out of suburban Sydney as quickly as possible. We missed red lights as if they were synchronised green for our benefit and our progress was rapid until we swung out to pass a truck, only to discover a police car wedged in front of his bumper bar and inviting early morning speedsters to pass. We didn't and for a few miles sat impatiently waiting.
Once the police turned off we doubled our speed, the Super Oscars creating daylight in front of the Alfetta. In our first hour we covered 98.5km and hadn't begun to get serious. Towns quickly came and went. I took a chance on the long straights leading into Bathurst and prayed the Super Snooper was detecting. There was nothing to detect.
At the end of the second hour we had done 216km and averaged 117.5km/h for an accumulated 108km/h. The Alfa was running perfectly and getting more accelerative as our fuel load lessened. Mostly it sat in fifth with occasional downward changes to fourth on steep climbs. Once, quite without warning, the engine coughed at 3500rpm in fifth. We gulped. But that was all.
Abruptly it was morning and our euphoria as the sun came up behind us was understandable. The first real stretches of open road lay in front of the Alfa, cruising at 4500rpm in fifth, the speedo needle hovering around 160km/h. It all seemed so easy. Yet one eye was never far from the mirrors for the possibility of a law enforcement vehicle appearing detracted from the pleasure of the drive when the engine conked out in a long right-hander. A few simple calculations showed that we extracted 443km from the auxiliary tank and averaged a mildly disappointing 13.3l/100km.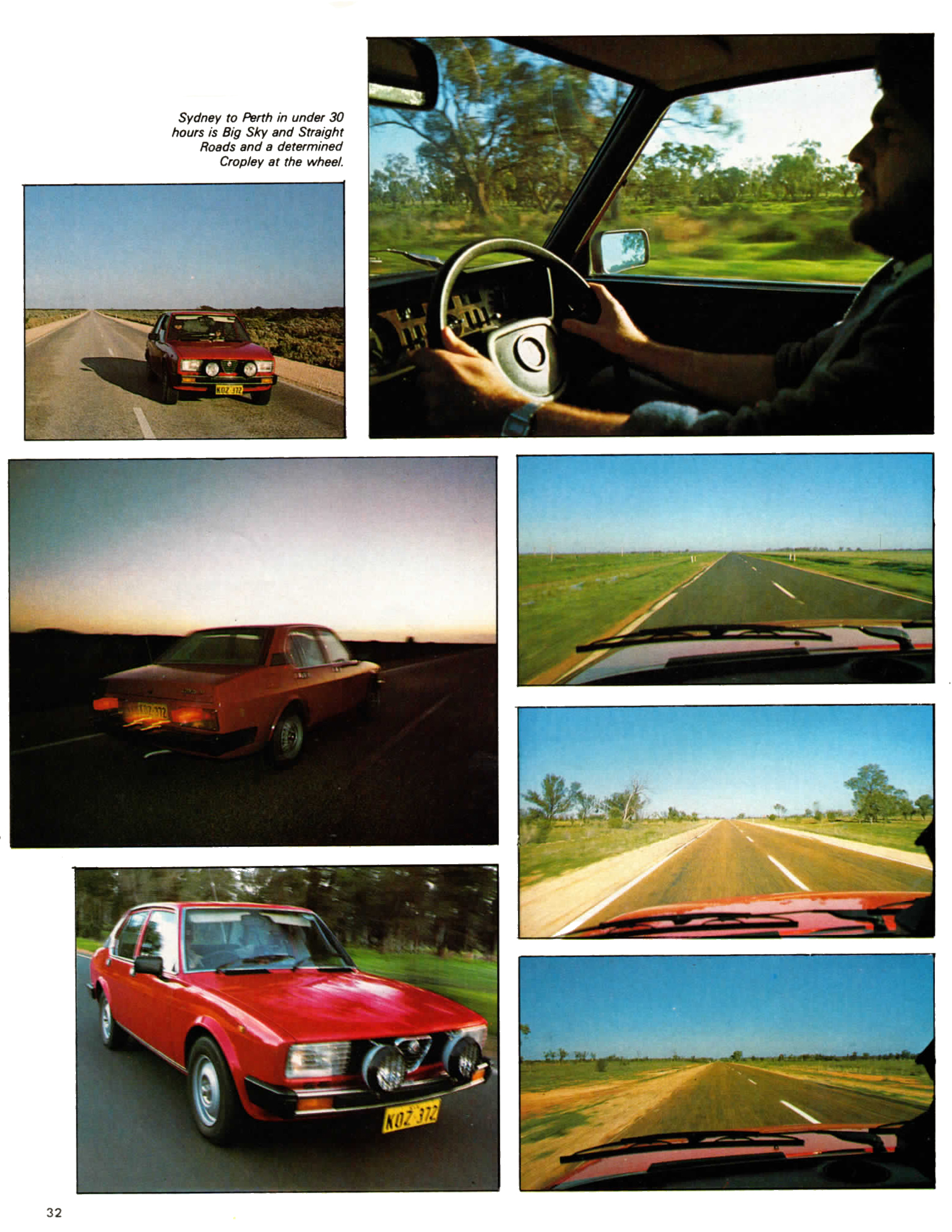 Dubbo, 400km west of Sydney, arrived at 7.34 am and it was Cropley's turn at the wheel. Two hundred yards later the Alfetta sat unhappily at another red light, our second. We could only glance at each other. There was no hesitation as he ran the Alfa out to our self-imposed limit of 5500rpm in each gear and 160km/h required no courage as we cleared the last remnants of the town. Steve set the car up for a fast sweeper. "Sheeeeeit, it does understeer." Cropley's shouted words implied that I hadn't warned him as his hands wound on lock.
Our first fuel stop, four hours 38 minutes and 582km after leaving Sydney, was 28 minutes ahead of the same distance in the Falcon. An eight-minute fuel stop to take on 107litres of fuel cut our average for the fifth hour back to 140km/h but took the accumulated average to 124km/h. We were now into what I believed would be the fastest section of the trip: daylight, two still-fresh drivers and a wide, straight, and vacant road in front of us. Our cruising speeds crept up to 170km/h and for the next three hours we averaged just under 160km/h.  Somewhere in far western New South Wales we whistled over a hump at 170km/h to be confronted by a mob of sheep spread across the road with no daylight visible between the woollies. Cropley, stamping hard on the brakes in a full-blooded stop, somehow threading his way through the animals. We were down to 80km/h and had escaped before Steve accelerated again. The only talking was done with eyebrows.
Gradually, we were coming into the red dirt country, the bitumen surface changed colour to a reddish-brown as we swept westward through wide-radius corners that could be taken at 170km/h, the driver wishing for twice the power.
The incident with the sheep increased our caution over humps while cattle on both sides of the road and kangaroo carcasses, that littered the blacktop, forced a state of caution. Our 170km/h cruising dropped back to 150km/h, although we couldn't decide what difference 20km/h would make if we hit a cow. Worse, while 170km/h helped our average speed, 160km/h seemed to be hurting the average and 150km/h was downright slow and meant we'd fall behind schedule.
It's a strange sensation: remote from the outside world through which we were cutting at 170km/h and yet, while the road was clear and straight, it felt motionless.
Broken Hill was our next fuel stop and our first pitstop. Alfa's engineer meet us on the east side of town and followed us into the first servo. Our pitstop routine cleaned the windscreen, filled the car, checked the oil level – none was required – and enabled us to relay worries of an occasional 15psi oil pressure in fifth gear at 170km/h. Alfa's man travelled 1200km one way to say "no worries" after eight minutes' work. It was one way of spending a Sunday.
Broken Hill is Cropley's hometown, but there was no time for the once-compulsory tour. The wide streets, verandas, tin roofs and dusty hills of his memory remained untouched. London was a world away. The two red lights we caught in 100metres in The Hill's didn't help our average speed
Heading into South Australia, Cropley began to reminisce with tales of his father's early '50s Ford Consul and the nightmare trips to Adelaide that took all day and most of the night and involved rations and carrying water and getting bogged for hours in the endless mud. It took some imagination as we rolled on with 110mph on the speedo. Adelaide, if it were our destination, was only three hours away. Our tenth hour gave us our best average speed of the trip: 163km/h.
As the sun moved into the western sky, we became aware of nasty reflections in the windscreen, and gradually changed direction from south-west to north-west through country that changed its appearance far more frequently than anything we'd seen for eight hours. We were a third – just a third – of the way to the Indian Ocean.
Our arrangement for the second pitstop in Port Augusta was the same as the first, but there was nothing to check so we pulled up alongside the service Alfa. Three faces peered out of the car. No, we said, there's no trouble, the car's running perfectly, everything's okay and thanks heaps. They smiled broad Italian smiles, wished us luck, and set off on the 190-miles back to Adelaide, the Cropley resolve strengthened by their enthusiasm. Port Augusta dealt us the only heavy traffic we were to sight until we reached Perth. It also brought our fifth stop light.
A fuel fill, recommended by our schedule, was rejected on the grounds we now understood just how much every eight-minute stop meant in terms of lowering our overall average. At 5.45 pm local time – 30 minutes behind Sydney – we pulled into a service station, 1860km from Sydney. The zealous rushing of our first two stops had given way to a methodical thoroughness as we took on 112litres of fuel. The stop took nine minutes and we forgot to clean the windscreen. Tiredness was creeping in on us.
We were told the police were thick on the ground in Western Australia, and were advised against speeding, advice we knew we'd ignore. The 'roos, the service station attendant said, were getting worse.
Cropley took over and we headed into the darkness. He talked seriously about conserving fuel by driving at 160km/h and no higher, "at least while visibility lasts", and we knew that despite knowing we were running about 30 minutes ahead of the time needed to break 30 hours, we were still less than halfway and had the night and weariness ahead of us. The sun was now directly above the road and Steve had to strain through the bugs and insects that did their best to limit vision. Ever so slowly, the sun moved across to the left, or was it the road moving to the right, as the sky behind us turned black? It wasn't until 200km up the road from our stop that the orange ball disappeared into the sea at 6.45pm Sydney time.
The windscreen, now covered in spattered bodies, needed cleaning. I reckoned we should rush into a service station and wash the glass without buying any petrol. Cropley was aghast that I would expect something for nothing and suggested we get $5 worth of fuel. I told him he was honourable but stupid and we hadn't the time. I broke the ensuring silence with a compromise. I would pay the garage $1 and clean the windscreen myself. He laughed and asked how it would look on the expenses. I got cross and told him they – the bean-counters – would just have to take my word for it.
We picked our target: deserted forecourt and rushed in, leaving the braking to the last minute, my door open before we came to a stop. But my hope of being able to clean the windscreen before anybody showed was dashed when a young woman appeared.
"Fill it up?" she asked as a matter of course, her hand on the pump.
"No thanks, we just want to clean the wind-screen," the words rushed as I grasped the sponge out of the bucket and gave her $1.
"What? Don't you even want a dollar's worth of fuel?"
"No, we don't have time."
"This is amazing," she looked at us suspiciously and asked, "Have you hooked something, and this is your get-away car?"
My eyes ache, my arms protest and my head pounds as Cropley snuggles back into the seat, knowing he has a long night ahead. How is he feeling?
"Mate, mate," he reassures me. "If I was any fitter, I'd be dangerous."
There are no notes of that night, I am too weary to care and can do no more than fill out our fuel chart and hourly speed check. I hover between drowsing and sleep, occasionally asking Cropley if he is still okay but hoping against hope, he won't ask me to drive. The man is inspired and averages between 145-155km/h for over four hours.
After 2560km Steve refuelled at the Western Australian border, taking on 101litres. The system says it's my turn and for 30 minutes I sit alert while Cropley slumbers beside me. Now my eyes are closing and I'm slowing down. Concentration has ceased. One half of my brain says, "Just close your eyes and everything will be alright" while the other half cringes in front of the Cropley determination and demands I continue.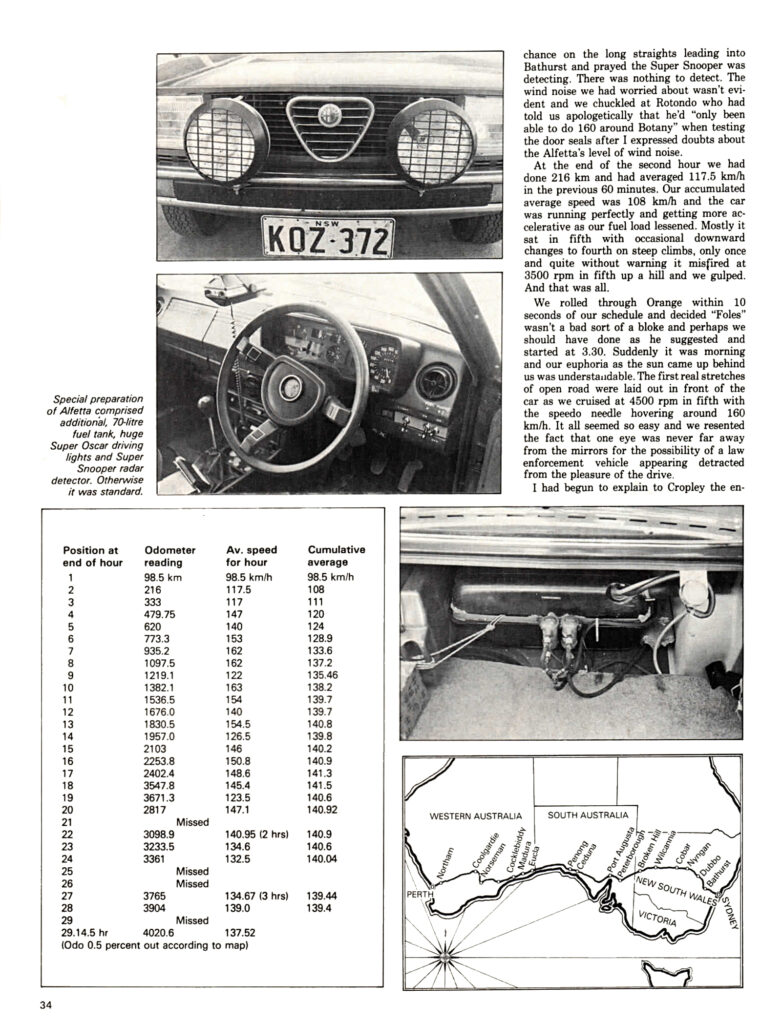 Superman drives on with a forlorn passenger wishing he could do his share and then falling back into the seat to the respite of fantasy. We reach Norseman, 3993km from Sydney and on the western side of the Nullarbor, at 3.31am Sydney time. Cropley has driven across the Nullarbor through the endless scrub with not a camel or policeman in sight, only 'roos hiding in the bush by the side of the road. Our combined accumulative average speed after 22 hours is 140.9km/h.
Morning is coming and my body's metabolism wakes up with the day and I let Cropley sleep through the 25th and 26th hourly checks.
My mind begins to argue with itself and spends hours calculating possible arrival times. The smallest, most minute, happening becomes significant. I count the number of cashews left and dividing that into the next three hours, work out that each nut has to last me seven minutes. I begin by sucking one clean of salt and then twirling it around my tongue before nibbling it ever so gently. I can't make one last more than five minutes so will run out well before the next fuel stop.
Perth, if we keep up our present rate, will be less than 29 hours from Sydney. The car is perfect, running beautifully, coping supremely with the road in a smooth, effortless fashion that proves two litres is capable of achieving all that 4.9-litres could ever do.
Our confidence is high, too high. Two hours out of Perth, the engine loses power. We assume it's the petrol tank changeover, but no amount of fiddling from fuel pump to fuel pump makes any difference. The Alfa simply won't pull more than 4500rpm: then it is down to 4000rpm and passing becomes a chore of anticipation. Our average begins to drop. We curse Alfa Romeos and swear we'll never do this trip again in a temperamental twin-cam four when there is a bulletproof bent-eight to rely on. Then it is gone as quickly as it came, the Alfa running cleanly to the redline.
Then we were in suburban Perth and coping with a clutter of cars that impede our progress. It is going to take more than 29 hours, but we know we'll beat our record and go under 30 hours. Despite his exhaustion Cropley is delighted.
We catch one red light and then another, our seventh, the last before Perth's Swan River bridge. After 29 hours 14 minutes and 5 seconds at an average 137.5km/h, consuming fuel at the rate of 16.6l/100km, Cropley has traversed the continent and done what he left England to do.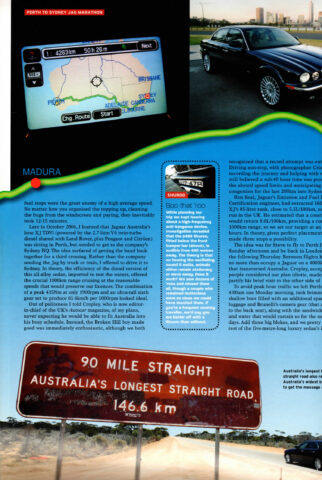 Twenty-seven years later, I learned that Jaguar Australia's lone XJ (X350) TDVi was sitting in Perth and needed to get to the company's Sydney HQ. Rather than truck the Jag across the country, I offered to drive it. In theory, the efficiency of an ultra-high geared (38.3mph per 1000rpm) diesel with an 85-litre tank, offered a 1000km range. However, given much heavier traffic, the presence of far more police – planes are now used to spot speeding cars on the Nullarbor – an absurd 110km/h speed limit – I knew a serious attempt on our record was impossible. Courtesy suggested I tell Cropley of my plan. He was immediately enthusiastic and hatched a plan to fly from London to Perth, arriving on a Sunday afternoon, and be back in London the following Thursday. Between flights he would do no more than occupy a Jaguar for the 4025km journey to Sydney.
With a photographer on board to record the run and act as a third driver, we left Perth at exactly 4.00am on a Monday. The Jag was effortless and comfortable, but not quite as efficient as I'd hoped. My highlight: 800km east of Perth and confronting the Nullarbor, the navigation's next instruction flashed up: 'straight on at a roundabout' a mere 1103kms down the road.
Poor roads, intense traffic and an obvious police presence slowed our last 400km into Sydney – this and a gentle lap of Bathurst's Mount Panorama circuit. We finally edged over the Sydney Harbour Bridge after 37 hours and 29 minutes, average speed 108km/h. Our consumption 8.8l/100km, just over half that of the Alfa and near a third of the Falcon. Red lights: 19.