by Peter Robinson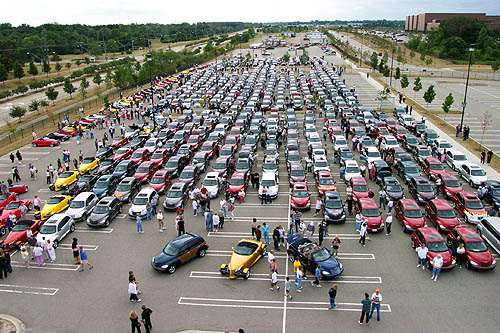 Woodward Avenue is gridlocked. Deliberately. Traffic in the four north-bound lanes is stationary, held in check behind a black Chevrolet Suburban and Hummer H2. Now, with the huge SUVs parked longitudinally across Woodward, the road ahead is clear, and our entourage can begin to move out from the Athens Coney Island diner.
"Let's go!" urges a suddenly anxious Richard Ferlazzo from the wheel of Efijy, willing the train of vehicles in front of us to accelerate. This is the moment the normally affable Holden designer has been dreaming about since his instantly iconic concept car was unveiled at the 2005 Sydney Motor Show. Efijy is all-Australian, but spiritually the sleek fantasy on wheels might have been specifically styled for Detroit's Woodward Dream Cruise, easily the planet's biggest motoring event. To nobody's surprise Efijy was earlier in 2007 named US Concept Car of the Year.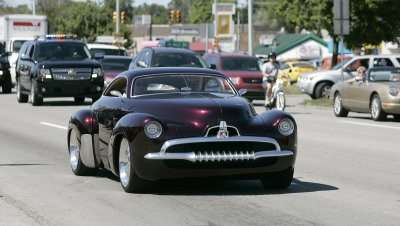 Ferlazzo's claim that "There is no venue more suitable for this car in the world," seems utterly justified.
A '57 Chevy poster in the Athens Coney Island diner says it all, "Other Cities Have Art Fairs."
The Woodward Dream Cruise is a celebration of Detroit's once-global domination of motoring when Motor City built the world's most exciting and flamboyant cars and owned 70 percent of global car production.
The Cruise is proof that many of these cars survive in thousands of private Detroit area (and beyond) garages, often owned by former car company engineers, designers, assembly workers and executives. Hidden away during the winter, when salt combats the ice and snow, the collector cars are only pulled out during the summer, especially for the Cruise, when for a couple of days it's acceptable to burn outrageous amounts of hydrocarbons, and exhaust fumes fill the air.
Upwards of 50,000 cruisers (some say 100,000) take part: mostly 1950s collectibles and 1960s Yank muscle, but also hot-rods, custom cars, Euro exotics and dozens of more modest cars from all-over.
Detroit's festival starts in Ferndale, just south of 8-Mile Road (eight miles north of downtown) and rumbles up Woodward Avenue, the diagonal strip of often concrete thoroughfare that dissects the mile roads for 17 miles to Pontiac and passing through leafy Birmingham and Bloomfield Hills, home to many of Detroit's senior executives. The idea is simple: cruise Woodward with your mates, step off at the famous diners, play car music, enjoy the cars and the camaraderie. Wandering through the static displays of thousands of cars in Birmingham's closed-off street, it's obvious this town knows and loves cars.
The Crowd is happy, good natured (public drinking of alcohol is banned) and you frequently find people reminiscing over a gorgeous, mostly original example of some family favourite from half a century earlier.
We creep forward, edging out on to Detroit's main drag – 60-years ago the location for illegal drag racing, often between factory sponsored cars testing new go-faster equipment and driven by engineers and product planners – the focal point of a Presidential-style cavalcade that includes a Corvette police car, two police Harley-Davidson Electra Glides, a Chevy HHR and GMC Sierra. All for a two-year old custom car from the other side of the world. Six photographers, fighting for a front row position in the oversize GMC Yukon truck that's immediately in front of the Holden, focus their lenses on Efijy.
"They don't close the road for anybody – we've royalty," laughs Ferlazzo, enjoying his glory moment. "It doesn't come any cooler than this."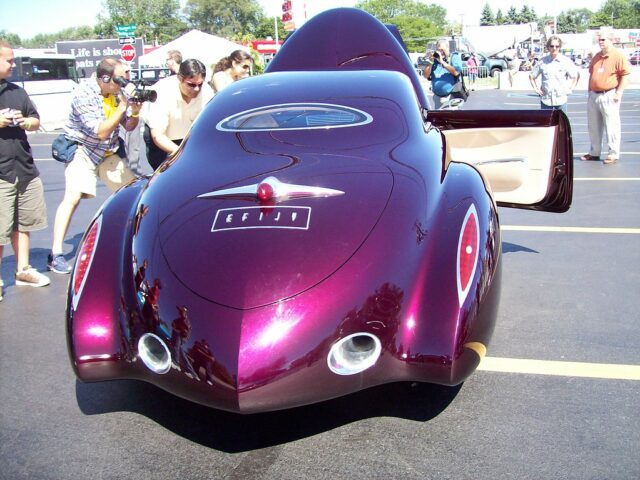 Cool scene, sure, but with the supercharged 6-litre V8 barely above idle, Ferlazzo's already worried about it overheating on this hot summer's day.
I'm riding shotgun, sharing the privileged experience. Already I've realised that if you hang around long enough chances are you'll see a sample of just about everything on wheels. Where else on earth are you going to catch an Opel GT parked between an original E-Type Jag and a '58 Chevrolet Impala convertible, opposite a rare early '50s Pininfarina styled Hash-Healey?
Tomorrow on the 'official' Saturday the cruisers are watched by who knows how many spectators. "One million, two million….nobody really knows," admits one Detroit executive of the masses whose folding chairs, picnics and BBQs line the route. Regulars tell you the Cruise begins many days earlier and the best are from Tuesday to Friday of the week leading up to the official beginning at 8.00am on the third Saturday in August.
How did the Cruise begin? In 1994, Michigan plumber Nelson House decided the local kids needed a soccer ground. He sold the idea of running a classic-car cruise as a way to raise money and thought it might be fun to watch the cars in his club do what they originally did best…cruise. The first Woodward Dream Cruise took place in August 1995 and immediately became an annual event. Organisers expected 30,000 people would come out to watch. The crowd turned out to be closer to 250,000. House got his soccer field.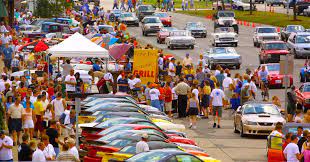 It didn't take long for Detroit to wake up to the possibilities. Today, the Cruise is sponsored by Ford and the other car companies all stake out various locations along the route. Toyota is nowhere. Traditionally the Blue Oval is centred around Ferndale and Birmingham; Dodge (now Stellantis) owns the Southwest corner of 13-mile and Woodward; while GM takes over the Athens Diner and The Triangle at the southern intersection of the old Woodward Avenue and new Woodward, just south of 15-mile.
Richard is beginning to relax – a little. There's no water temperature gauge, only a warning light and concern remains on the effect our crawling progress is having on the heat build-up in the monster mill. I'm jammed in, head against the lining and, because there are no seat belts, feel surprisingly vulnerable. Perhaps also because in the right-hand drive Efijy, I'm in the passenger seat where the driver should be in left-hand drive America. To outsiders it looks as if I'm driving. I'm not though there's nothing meaningful to be learned in driving the fragile custom at five mph. I'm enjoying the 'holy sheet!' impact we're having on the other traffic and spectators, but also disappointment I don't get to see the gorgeous long-slung purple Efijy from outside, slinking across the tarmac and creating its own traffic jam.
"Light 'em up," shouts one spectator running down the road to keep pace. I wish. Everybody loves the Holden: the smiles, waves and cameras are inevitable. At one of the cross streets our police outriders block the traffic for our turn around. Finally, we creep into the diner car park. But it's not quite over. Overheating engine or not Ferlazzo can't resist. Twice he blips the throttle; the V8 blasts before shutting down.
A decade later I'm back on Woodward, this time with designer Mike Simcoe at the wheel, cruising Woodward Avenue in the last Chevrolet SS (the badge-engineered, Chevrolet version of the Holden Commodore) on the Tuesday evening before Saturday's Cruise proper. We're talking cars: Detroit muscle, Detroit fantasy, Detroit influence, decades of Holden styling and the now head of GM design's favourites. I'm absorbing car styling wisdom from a master, a precise, honest tutorial that's gold for anyone, like me, who loves Detroit cars from the 1950s and 1960s.
Cruising is a weird kind of time warp. Aging baby boomers, driving cars they could only dream about as teenagers, all but shut down the nine towns along the Woodward. Remember what Marlon Brando and Lee Marvin did in, "The Wild One"? This time it's with the cooperation of police, officials and sponsorship from major companies.
There are no formal entries, no rules, only an understanding that the car should be old and interesting. The right two lanes, along the kerb, are reserved for the cruisers, most dating from the mid-50s to the oil embargoes of the 1970s. Local traffic continues, more or less, in the outer lanes.
Cars from across America start arriving a week early, their drivers enticed by the lure of an event that promises to bring back the days when nothing more than a crummy radio, a scrounged car and a slow jaunt down a suburban road delivered teenage nirvana.
On the Saturday before the Cruise, thousands of Dodge and muscle car fans flock to Pontiac for Roadkill Nights, an authorized quarter mile drag strip on Woodward. Roadkill Nights combines drag races with the atmosphere of a fair, complete with muscle car displays. Visitors stood in hour-long lines for thrill rides in a 700bhp Dodge Challenger SRT Hellcat, Charger SRT Hellcat and 645bhp Dodge Viper. With prize money totally $35,000, 150 drivers signed up to run with each car expected to race at least three times and draws an eclectic mix, from a '70s-era Chevy Nova wagon to a current top fuel dragster, plenty of converted muscle cars, including an original Dodge Challenger making 2500bhp and clearing the quarter mile traps in under five seconds.
Providing a running commentary on every fascinating car we see, Simcoe points to a 1962 Caddy Eldorado. "Cadillacs, from 1960 to the early 1970s, and the mid-1960s pillarless Chevrolet coupes, are favourites," he says. "There's a great simplicity of line. These Cadillacs were still the Standard of the World (for decades, Caddy's advertising slogan), their strong aggressive lines so beautifully handled. Nobody did it better. GM owned (body) surfacing."
Given Simcoe's appreciation of proportions and elegance, it is no surprise he prefers design boss Bill Mitchell's 1960s cars to the finned and increasingly chromed extravagance of his predecessor Harley Earl's 1950s models.
"I relate more to Mitchell's era (1958-1977) than Earl's (1927-1958)," says Simcoe. "The '59s were an acquired taste and part of the transition from Earl to Mitchell." Mike is discreetly referring to GM's panicked and wild-styling response to Chrysler's beautiful Suddenly it's 1960, 1957 models.
"Mitchell changed everything. He was a master, all that animal cunning."
Mike's only comment as a first-generation Lamborghini Gallardo slithers passed, "It doesn't fit a Woodward spectator event."
Where the parked cruisers look more interesting, we stop and wander among the cars. The first-generation Camaro is, "a nice car" and he shoots down my criticism of the current model's lack of visibility. "A Camaro should be extreme. Today's car has the proportions of the original (2006) show car, the high beltline, the emotional feedback. When you're driving through the pillbox, you're looking through the exterior."
An early 1960s Chevrolet Impala has Simcoe examining the dazzling interior, "People are more conservative today," he says. "Most mass market customers don't want bright colours. Back in the '60s, the run of the mill models were more daring,"
"The cars of the 1950s are all about the emotion they engender. From the mid-1950s, the Tri-5s (Chevrolet's 1955, '56 and '57 models) evoke memories every time."
"You can create the most beautiful car in the world, but if nobody reacts to it you're talking to yourself."
At times it seems almost everybody in Detroit owns at least one car from the golden era of styling. A bug-eye Sprite is dwarfed by a four-seat T'bird and Mustang fastback that momentarily flank the baby Austin-Healey. A drag-bike, complete with nitro-bottle, comes into view. Anything goes on Woodward.
"People are looking for the outrageous," says Simcoe, reflecting on how the Woodward scene shifts as we start to leave in the darkness. "The world has changed, at around 10.30pm the older generation goes home and by 11.00pm the rice-rockets arrive, as if the rest of the world drove four-cylinder turbos. This group is embracing new technology so there are still kids embracing cars, just that culturally cars are becoming different."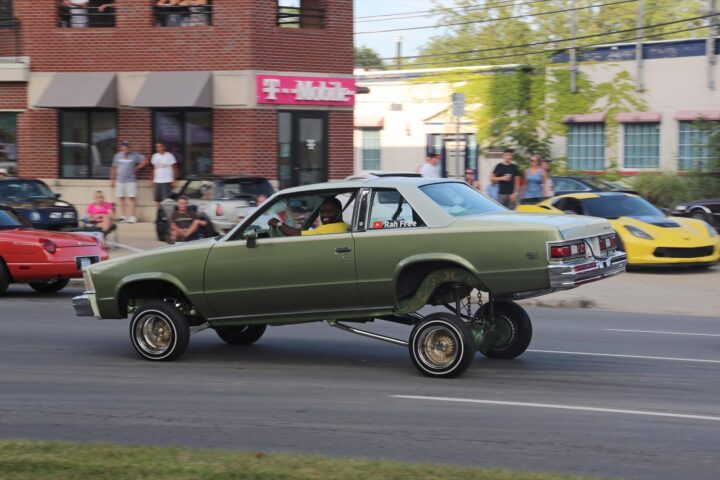 Simcoe's small car collection – Aston Martin DB4, Lancia B20 GT, Lancia Fulvia Fanalone coupe and Lotus 14 – have deliberately been chosen as symbols of what he sees as a great era in car design. And he pines for a split-window '63 Corvette.
"The three nations (UK, Italy, and USA) were at the top of their games," Simcoe believes. "All three (cars) arrived in just 10 years."
By some senseless coincidence, the Cruise weekend clashes with Pebble Beach Concours at chic Monterey, where over-restored 1930s classics compete on the greens of an exclusive golf course within sight of the Pacific Ocean.
"What's the difference between the Woodward cruise and Pebble Beach?," asks designer Peter Horbury before answering his own question. "I.7million people watch the Cruise versus just 10,000 bluebloods at Pebble Beach – and their total value is the same."
Having seen both events, I know where I'd rather be and it's not the West coast.
Woodward 2017, photos by Thomas Wielecki
Sidebar
Chuck Berry popularised the cruise aspect of youth culture in his 1964 hit "No Particular Place to Go", with lyrics like these:
Ridin' along in my automobile
My baby beside me at the wheel
I stole a kiss at the turn of a mile
My curiosity runnin' wild
Cruisin' and playin' the radio
With no particular place to go.