By Peter Robinson
Max Stahl, most probably Australia's first professional motor racing journalist, has died at the age of 87. Max is best remembered for his time as editor and later owner of Racing Car News, the bible of the sport during the magazine's glory years of the 1960s to 1980s.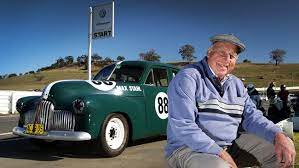 Max also raced, winning the 1967 Caledonian Rally with John Keran in a Volvo 122S (Stahl's choice of wheels for decades), thus becoming the first Australian crew to win an international rally. After buying the ex-Brian Muir 48-215 Holden, Max raced with some success, achieving notoriety when he rolled the car at Catalina Park in 1963.
"After I wrecked the car Norm Beechey came up to me and put his arm around my shoulder and said, 'don't worry Maxie. Just remember if you can't win be a crowd pleaser', Max recalled decades later.
Max, born in Newcastle in 1935, moved to Sydney to start a small advertising agency in the 1950s, while competing in racing and rallies in his road registered Simca Aronde. His office shared a building with Photo Digest which also produced Racing Car News, a magazine suggested by Stahl. A couple of years later, having sold the advertising agency, he was asked to edit the title. He stayed for 23-years.
During the 1960s, the Tasman Series brought the world's best drivers to Australia and Max quickly became friends with blokes like Graham Hill, Jackie Stewart, Bruce McLaren and Denny Hulme. Ray Bell, a long serving RCN contributor, remembers Jim Clark gave Stahl the Firestone overalls in which he won the 1965 Indianapolis 500.
After selling the magazine following a a heart attack in 1982, Max moved to the Central Coast and later to Scone, all the while continuing his involvement in motor sport. RCN never achieved the same success against the new weekly and fortnightly magazines and newspapers.
Stahl is survived by his second wife of almost 30 years, Christine, his three children Mandy, Vicki-Ann and Michael, who followed his father into motoring journalism, nine grandchildren and two great grandchildren.